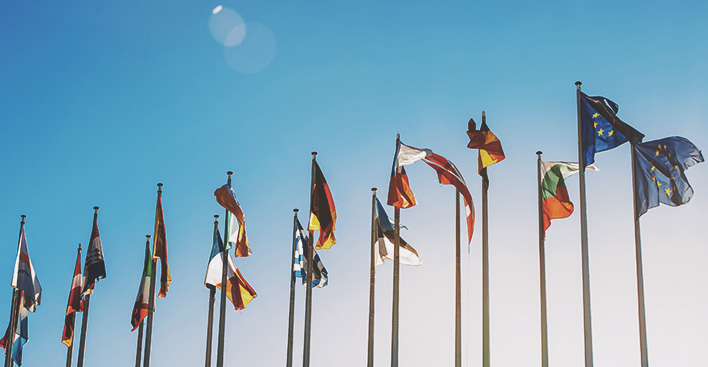 The European economy, which seemed to be well on the road to recovery in recent years, suddenly faces economic uncertainty on several fronts – and that uncertainty has also been rattling both the bond and stock markets in the U.S.
Economic activity across Europe has been showing a meaningful slowdown this year, driving down the value of the Euro while boosting the U.S. dollar. Here are some of the problem spots of the European slump:
Italy. The nation is now showing signs of real political uncertainty. A populist coalition in Italy is roiling the markets with its call for tax cuts and higher government spending, while challenging Italy's membership in the Eurozone. As a result, Italian bonds have continued to drop in value, with yields on 10-year government bonds up more than 1.2% so far this year. However they are just broaching 3%, which is similar to U.S. 10-year yields. 
Germany. Although Italy has been front and center, Germany has also seen a significant decline in economic activity this year. Some of this may be attributed to trade or tariff threats coming from the U.S.  A disruption in trade activity could be particularly harmful for the German economy since Germany is an export-driven economy.
Turkey. The Turkish lira has dropped dramatically – down about 20% versus the U.S. dollar this year – as inflation and rising interest rates take a toll on the Turkish economy. As traders sold out of the declining currency, Turkey's central bank raised the interest rates from 13.5% to 16.5%. The declining currency could make the cost of goods manufactured in Turkey more expensive, driving down exports and further weakening the Turkish economy.
Spain. Turbulence in the European economy and recent corruption convictions for members of the Spanish president's party have led to a rise in interest rates and a sharp drop in stock prices in Spain – particularly banking stocks, which suffered a one-day drop of about 5% on May 29.  
European Union. Finally, the EU has been issuing some fairly aggressive regulatory policies, particularly pertaining to data privacy.  We believe the market has perceived the push toward stronger regulation as anti-growth for the continent.  In short, politics, trade, regulation and business and investor confidence have taken a turn for the worse.
While both the stock and bond markets have been adversely affected by recent economic developments in Europe, it is too early to suggest that Europe is headed for another recession. On the bright side, corporate earnings for many European blue chip companies have been relatively strong this year. But the overall economic picture for Europe has definitely eroded this year.
A Look Ahead
Where is the U.S. economy headed in the near future? Here are some of the key issues we are watching:
We have still seen no evidence of an impending recession in the U.S., although first quarter indicators had softened somewhat.
Rising interest rates could impact large debt issuers, as rising government, corporate and individual debt levels have become the "new normal."
Corporate earnings remain solid and price-to-earnings multiples, although higher than average, are not excessive (and have actually declined this year). But return expectations should be tempered.
See: Is Relief Ahead for Rising Gasoline Prices?  May 2018 Market Recap
Media contact: Samantha Mehrotra, 612-844-4197, samantha.mehrotra@thrivent.com
All information and representations herein are as of 06/04/2018, unless otherwise noted.
The views expressed are as of the date given, may change as market or other conditions change, and may differ from views expressed by other Thrivent Asset Management associates. Actual investment decisions made by Thrivent Asset Management will not necessarily reflect the views expressed. This information should not be considered investment advice or a recommendation of any particular security, strategy or product.  Investment decisions should always be made based on an investor's specific financial needs, objectives, goals, time horizon, and risk tolerance.
Past performance is not necessarily indicative of future results.