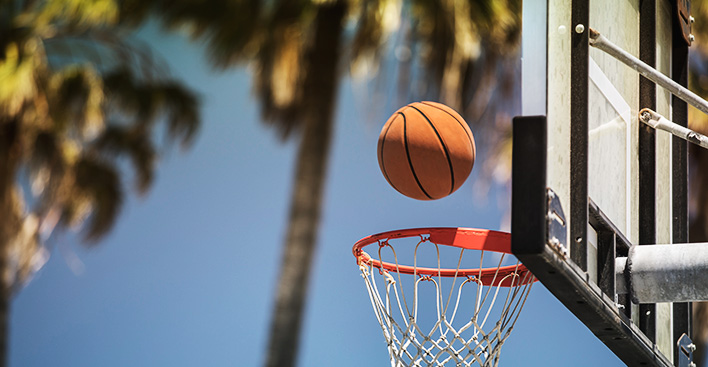 After a turbulent 4th quarter of 2018, the stock market reversed course in January, with most leading indexes posting solid gains.  
Ironically, the turnaround came amidst the longest U.S. government shutdown in history, which ended on January 25 after 35 days. But while the shutdown was a stressful time for the nearly 1 million affected government workers – and the millions of Americans who were relying on their services – it seemed to have little effect on the stock market. 
The S&P 500 moved up 7.87%, the NASDAQ Index surged 9.74%, and the MSCI EAFE Index, which tracks the performance of developed-economy stocks in Europe, Asia and Australia, rose 6.47%. 
Oil prices also rebounded in January after a severe slump in the 4th quarter of 2018. The price of a barrel of West Texas Intermediate, a grade of crude oil used as a benchmark in oil pricing, jumped 18.45%, from $45.41 at the close of 2018 to $53.79 at the January close.
(Economic numbers typically released in January on factors such as retail sales and personal income were delayed due to the shutdown and have not yet been released.)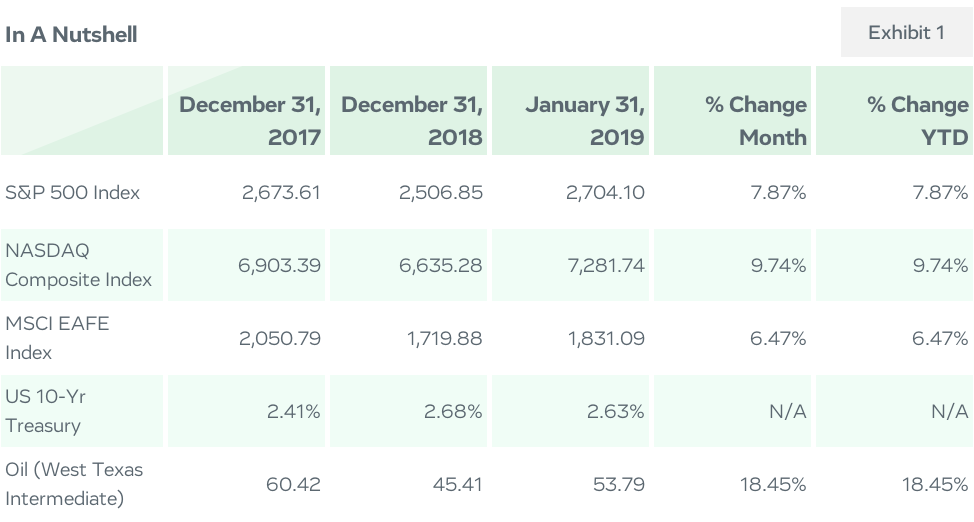 Drilling Down
U.S. Stocks Rebound
The S&P 500 rebounded from a steep decline in the 4th quarter of 2018 to post a 7.87% gain in January, from 2,506.85 at the close of December to 2,704.10 at the January close. (The S&P 500 Index is a market-cap-weighted index that represents the average performance of a group of 500 large-capitalization stocks.)
The total return of the index (including dividends) was 8.01% in January. 
The NASDAQ Index also recovered in January, climbing 9.74% for the month after declining 9.48% in December.  (The NASDAQ – National Association of Securities Dealers Automated Quotations – is an electronic stock exchange with more than 3,300 company listings.)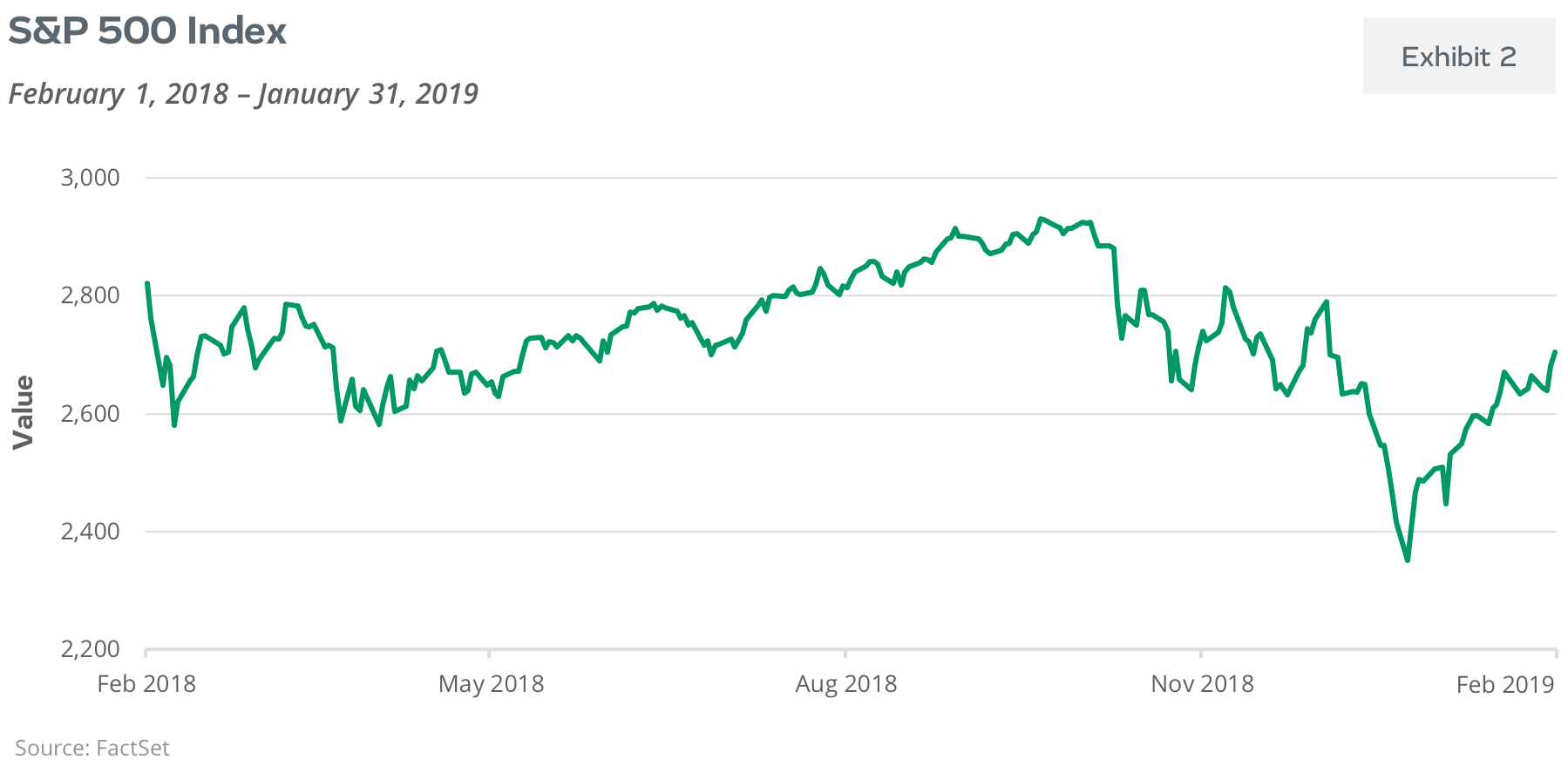 Job Growth Continues
U.S. employers added 304,000 new jobs in January, according to the U.S. Bureau of Labor Statistics Employment Situation Report issued February 1, after adding 222,000 new jobs in December. However, the unemployment rate slipped 0.3% from 3.7% to 4.0% over the past two months as more people entered the work force – an indication that the strong job market is attracting more workers.
The economy has added jobs for 100 consecutive months.
Average hourly earnings for all employees on private nonfarm payrolls rose by just 3 cents in January to $27.56. Through all of 2018, average hourly earnings increased by about 3.2%. 
The government shutdown had a temporary effect on the employment picture. According to the employment report, "among the unemployed, the number who reported being on temporary layoff increased by 175,000. This figure includes furloughed federal employees who were classified as unemployed on temporary layoff."
All Sectors Post Gains
After a dismal December when each of the 11 sectors of the S&P 500 posted losses, all 11 sectors reversed course in January and moved into positive territory.
The best performing sectors included Industrials, up 11.41% for the month, Energy, up 11.11%, and Real Estate, up 10.79%.
The chart below shows the results of the 11 sectors for the past month: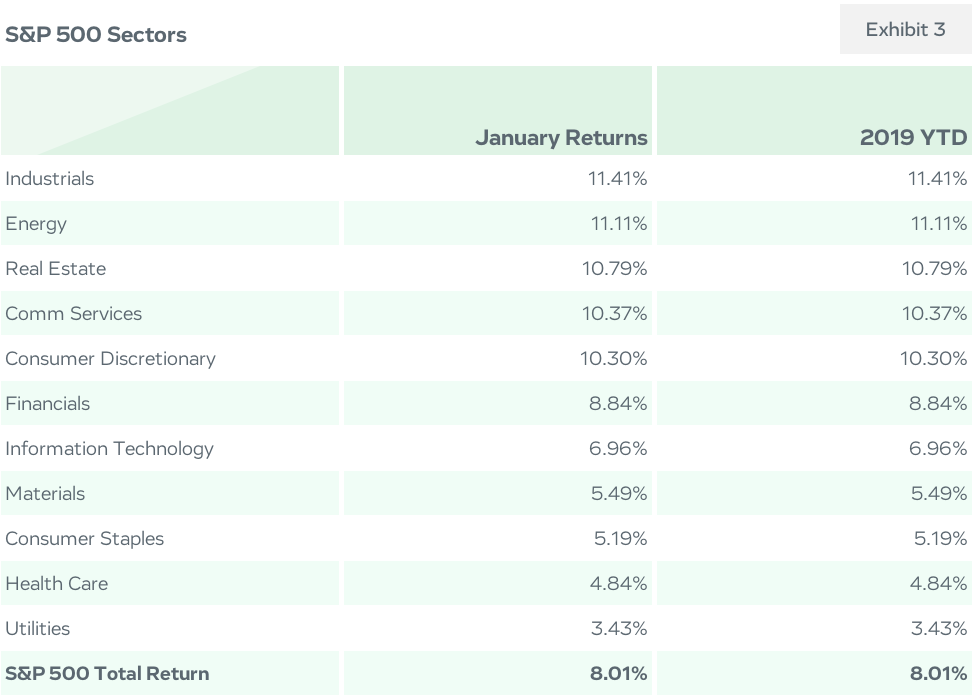 Treasury Yields Decline
The yield on 10-year U.S. Treasuries continued to decline in January, ending the month at 2.63%, down 0.05% from its 2018 close of 2.68%.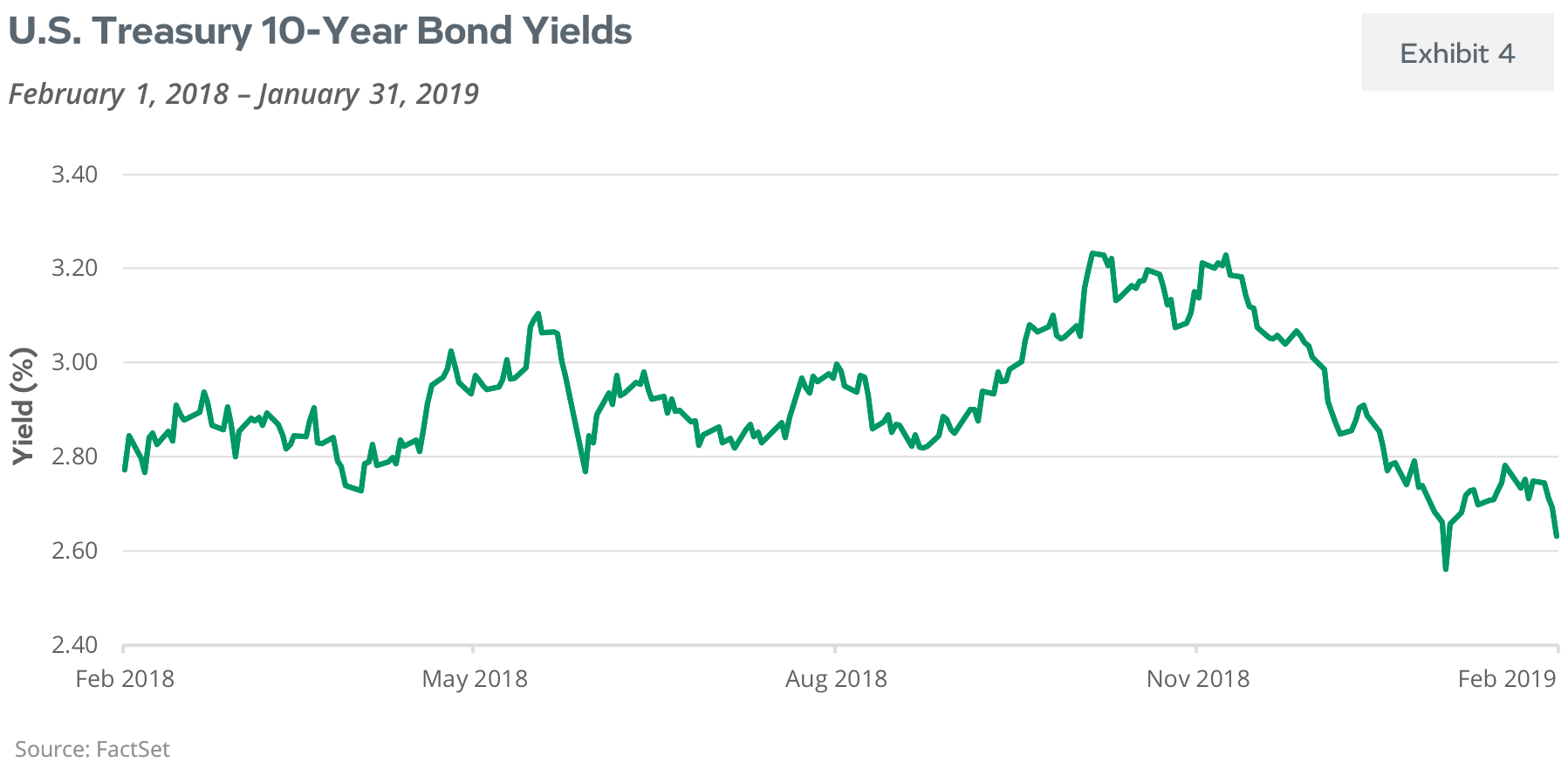 Oil Market Ends Skid

Oil prices finally rebounded after experiencing a decline of nearly 40% in the 4th quarter of 2018. The price of West Texas Intermediate surged18.45%, from $45.41 at the close of 2018 to $53.79 at the January close.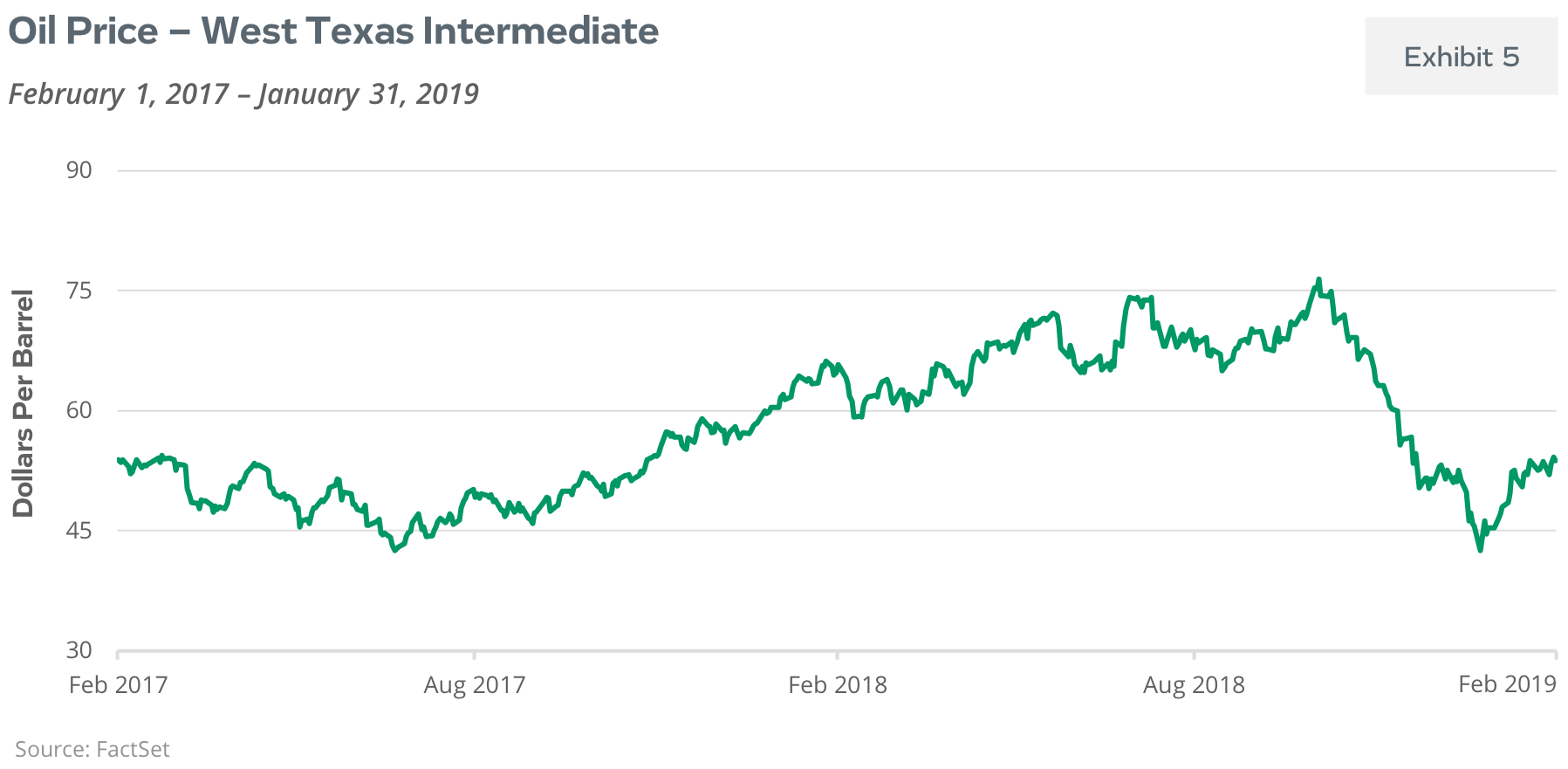 International Equities Turn Positive
After a 16.14% loss in 2018, the MSCI EAFE Index entered positive territory in January, climbing 6.47%.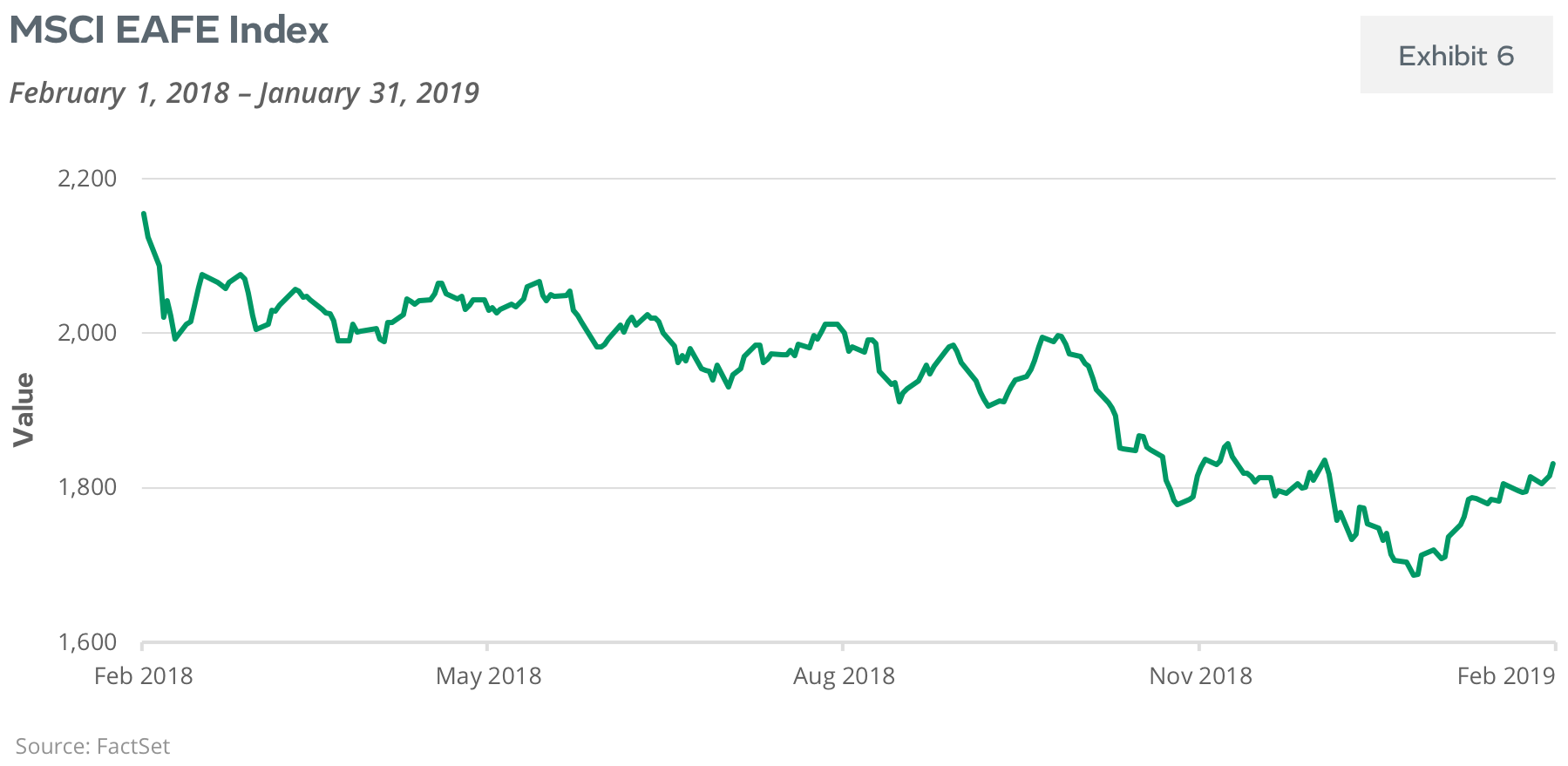 All information and representations herein are as of 02/01/2019, unless otherwise noted.
The views expressed are as of the date given, may change as market or other conditions change, and may differ from views expressed by other Thrivent Asset Management associates. Actual investment decisions made by Thrivent Asset Management will not necessarily reflect the views expressed. This information should not be considered investment advice or a recommendation of any particular security, strategy or product.  Investment decisions should always be made based on an investor's specific financial needs, objectives, goals, time horizon, and risk tolerance.
An index is unmanaged, and an investment cannot be made directly in an index.
Past performance is not necessarily indicative of future results.