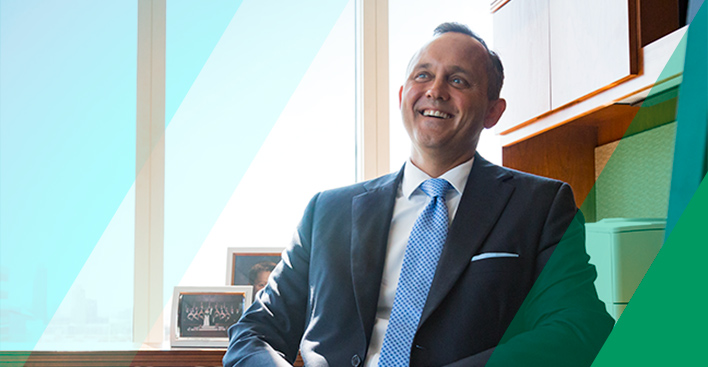 We've often stated that Thrivent's mission is to help people be wise with money. But I thought it might be helpful to go a step further and delve into the story behind that slogan – how we manage your money at Thrivent. Please bear with me; managing money may seem complicated and difficult to understand, but it can also be made very simple.  In fact, that's the whole point of much of what we do as an investment team at Thrivent.
Within the investment area, we do our best to offer low cost, high value products that are easy to understand.   Although Thrivent offers a variety of funds, today I'd like to focus on some funds that we view as especially important in helping folks be wise with money:  our Asset Allocation Funds and Income Plus Funds.
Our Asset Allocation Funds are intended to be a simple solution for investors seeking accumulation of assets for retirement or other purposes.  We offer four funds – from Moderately Conservative to Aggressive – to suit the risk tolerance and objectives of a wide range of investors.  Higher risk, of course, offers the potential for greater returns but also carries greater risk of loss.  
We also offer three Income Plus funds –  from our Balanced Income Plus Fund (which has approximately 50% in stocks and 50% in fixed-income) to our Diversified Income Plus Fund (which has approximately 25% in stocks and 75% in fixed-income) to our Opportunity Income Plus (which normally holds only fixed-income securities).  Our Income Plus funds seek to provide greater income than our Asset Allocation funds and could be appropriate, for example, for someone looking for income in retirement.
We use the same process to manage both our Asset Allocation funds and Income Plus funds.  We sometimes refer to these funds collectively as our "mixed asset funds," since each holds a variety of different types of securities.  We also sometimes refer to our Asset Allocation funds and Income Plus funds as "solution-oriented funds."  We call them that because, unlike our single-strategy funds (such as  our Mid Cap Stock Fund or our Large Cap Growth Fund), our primary goal isn't just to beat a particular investment benchmark.  We're seeking a particular outcome for investors, namely, some combination of capital appreciation and income with a certain level of risk (depending on the fund).
Our mixed asset funds are designed to be as simple as possible for an investor to understand.  But within these funds, there's a whole lot "going on under the hood," so to speak.  Our process starts with an in-depth, quantitative review of the historical risk, return and other characteristics of more than two dozen types of assets – stocks, bonds and hybrid securities, both domestic and international.  We have a group of five investment professionals, led by David Spangler, CFA, whose primary job is to analyze our allocations across asset classes for our mixed asset funds.  They compile the best historical data available for each type of asset and run an optimization algorithm to determine which allocations, based on the historical data, should produce the best risk-adjusted returns.  
But the future doesn't always look like the past, so we don't simply set our asset allocations based on algorithms running on historical information.  When we set what we refer to as our "strategic allocations" for each asset class, we take into account the quantitative models and data, but we also apply a layer of judgment.  Some periods in the market – think of the tech bubble in 1999-2000 or the credit crisis of 2008-09 – can be so extreme as to distort long-term historical data.  Our team of investment professionals uses its many years of experience to set what we believe to be the best strategic asset allocation for each fund based on its investment objective and its risk/return profile.  We redo this strategic allocation process about every 24 months to incorporate new and better historical information as it becomes available. 
But while we view our strategic allocations as an important starting point – our "north star," as we've termed it in our asset allocation meetings – our mixed asset funds are rarely at their exact strategic allocations across all asset classes.  There is nearly always something going on in the markets or in the world that gives us reason to believe we should over- or under-weight certain asset classes for some period of time.  For instance, over the past year or so, we've been modestly below our strategic weightings for stocks because stocks seemed fully valued (but not over-valued), and we've been in a bull market for nearly 10 years.  We refer to any departure from our strategic weightings as a "tactical allocation."
Tactical allocations can be short- to intermediate-term trades.  We may for example believe one asset class is significantly over-valued as compared to another.  We would then buy the asset we view as cheap and sell the one we believe is too expensive.  Such a trade could play out over a period of months or sometimes just weeks.  We're long-term investors, not market timers, but in our mixed asset funds, part of our mandate is to continually seek to optimize out asset allocations, and that can sometimes involve being nimble and making some shorter-term trades to seek to add to shareholder returns.  
A mutual fund may seem like an old and stodgy vehicle.  After all, mutual funds have been around for more than 75 years.  There are newer vehicles, such as managed accounts and even so-called "robo-advisors."  But a mutual fund has some significant advantages, and these advantages are a big part of the reason why mutual funds have withstood the test of time.  
Mutual funds are called mutual funds because of the mutuality among shareholders.  Expenses are allocated across all fund shareholders, which can give smaller investors access to economies of scale.  But this mutuality is important from an investment management perspective as well.  Since we're managing pools of assets in our mixed asset funds that belong to tens or hundreds of thousands of shareholders, we can use investment tools and techniques that would be difficult or impossible to utilize for an individual investor.
When we make tactical asset allocations, we typically do so using futures contracts or other derivative instruments, both to reduce transaction costs and to avoid disturbing our underlying portfolio managers by forcing them to buy or sell portfolio securities.  We have in the past, for example, purchased an overweight position in foreign securities we believed to be undervalued, but hedged the relevant currency risk (because we thought the underlying currency might go down).  I believe that, paradoxically, the fact that we're managing large pools of assets actually allows us to be nimbler from an investment perspective.
As you can see, there's a lot going on within your fund in terms of investment management, yet the whole point of the funds is to make things simple from an investor's perspective.  
We recognize that many investors have a long list of things they'd rather be doing than thinking about asset allocation and worrying about what might be going on in the markets.  At Thrivent, we have a team of 116 investment professionals who are committed to helping you be wise with money and achieve your financial goals.  I know that I sometimes wake up at night thinking about markets and asset allocation.  I suspect others on our team do so as well.  We're continually thinking about how best to allocate our shareholders' assets – so that you don't have to.