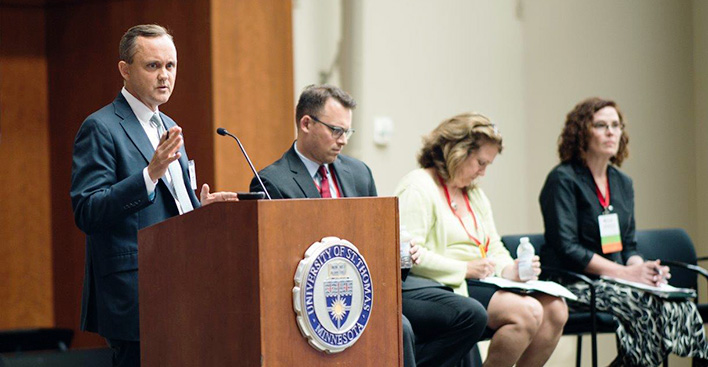 Will actively managed mutual funds continue to be the dominant investment approach in the years ahead, or will passive investments, such as index funds, overtake them?
That was the question faced by David Royal, Chief Investment Officer, Thrivent Financial, during the "Great Active versus Passive Debate" at the 7th Annual Intellisight Conference, sponsored by the CFA Society of Minnesota.
David and his debate partner, Sheila Healy Berube, CFA, championed the view that actively-managed funds will continue to be the dominant investment approach because of the value they add for investors.
Advocating in favor of passive management were Susanna Gibbons, Managing Director, Carlson Funds Enterprise, and Daniel Romito, Global Head of Investor Analytics, NASDAQ. Among their key points were that index funds generally carry lower fees than managed funds, and that some categories of equity index funds have had superior long-term returns.
David's team offered a number of counter-points, including:
Active management has a real place in the portfolio for real people. For instance, with asset allocation funds, investors can own an actively-managed, diversified portfolio through a single investment.
As passive investing grows, capturing a larger share of the market, that could tend to make the stock market less efficient.
Trends in regulation and litigation may be driving more people – especially in defined contribution plans – into passively-managed products.
We have quantified that actively-managed funds have outperformed index funds during down periods in the market, such as 2000-2001 and 2008-2009, citing a recent Thrivent Mutual Funds Active versus Passive white paper.
A 2018 Thrivent Mutual Funds study also showed that as the stock market became more volatile, the performance of actively-managed funds improved relative to index funds. For instance, since June 30, 2016, about 70% of the 268 U.S. Large Cap Value funds have outperformed the corresponding index. (See: Actively-Managed Funds Gain Ground on Index Funds in Shift to Quality)
Actively-managed bond funds have traditionally outperformed index bond funds – and that margin of performance has actually improved in recent years.i
Management fees for actively-managed funds have declined in recent years, narrowing the cost margin between active and index funds. (See Thrivent Mutual Funds Active versus Passive white paper)
Even when indexes are outperforming the median actively-managed funds, there are often many active funds that are still outperforming the index.
Equity studies generally focus on all equities versus the S&P 500ii instead of narrowing the comparison to comparable indexes versus comparable peer groups. In some cases, the specific index used makes a big difference. For example, over the 12 months ended June 30, 2018, the S&P Small Cap 600iii was up 20.50%, while the Russell 2000iv was up 17.57% and the Morningstar Small Core indexv was up 12.62%.
While both sides were able to point out several advantages of their approach, past performance does not guarantee future results. There are many market scenarios that could play out favorably for either active or passive. An approach that may be appropriate for one type of investor may not be suitable for another.
In audience voting both before and after the debate, about 60 percent of those in attendance said they believed that actively-managed funds would continue their dominance over passive investments over the next several years.
The views expressed are as of the date given, may change as market or other conditions change, and may differ from views expressed by other Thrivent Asset Management associates. Actual investment decisions made by Thrivent Asset Management will not necessarily reflect the views expressed. This information should not be considered investment advice or a recommendation of any particular security, strategy or product.  Investment decisions should always be made based on an investor's specific financial needs, objectives, goals, time horizon, and risk tolerance.
Indexes are unmanaged and do not reflect the fees and expenses associated with active management. Investments cannot be made directly into an index.
---
i Bonds Are Different, Active versus Passive Management in 12 Points, PIMCO, April 2017

ii The S&P 500® Index is a market cap weighted index that represents the average performance of a group of 500 large-capitalization stocks.
iii The S&P Small Cap 600 is a market cap weighted index that represents the average performance of a group of 600 small capitalization stocks.
iv The Russell 2000 is described by FTSE Russell as the 2,000 stocks that rank in size (market capitalization) from the 1,001st largest U.S. stock through the 3000th largest U.S. stock.
v The Morningstar Small Core index measures the performance of small-cap stocks where neither growth nor value characteristics predominate.