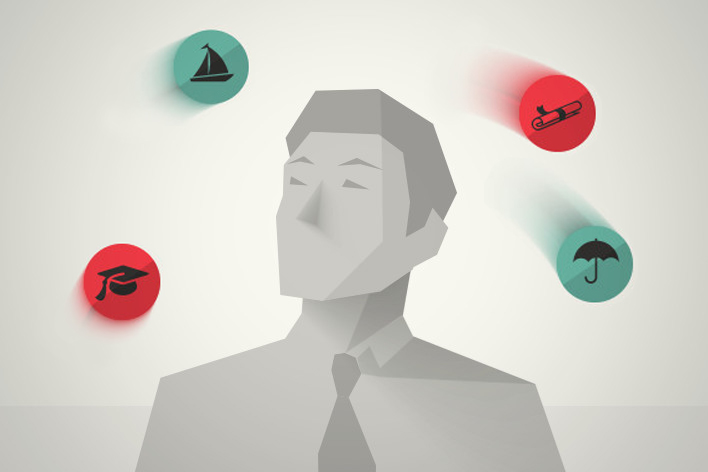 As the cost of higher education rises, many parents find themselves in the difficult position of choosing between saving for their children's education and investing for their own retirement. 
While some parents choose to focus on their own retirement needs over the educational costs of their children, others feel an obligation to help their children avoid the potentially enormous burden of student debt. 
Which path should you choose? While many parents want to help their children avoid the burden of student debt, there are a couple of very good reasons not to tap into your retirement savings to help pay their college costs.
For one, student loans typically come with a favorable interest rate well below the long-term average annual return of the stock market. So you may be better off financially to keep your money invested in your retirement account and ask your children to fund their college costs through low interest loans. If you later have the means to help them pay off those loans, that would certainly be helpful for your children, but don't do it with money from your retirement account.
The other consideration is that depleting your retirement savings could put your financial future in jeopardy. Your children would likely have a lot more years to pay off that debt than you would to save for your retirement. Helping your children with their college costs is a nice gesture if you can afford it, but don't do it if it leaves you underfunded for your retirement years. 
Your children may have a variety of funding options available to help them make it through their post-secondary education, including scholarships, financial aid and student loans. They may also be able to choose a less costly higher education institution to keep debt to a manageable level. 
However, many parents resist the concept of restricting their children's educational options – or of saddling them with potentially many years of debt. 
While it may not be possible for you to cover the entire cost of your children's education, if you can provide even a little help with educational costs, that may have a significant impact on your children's student debt.  
For instance, let's use the hypothetical example of a student who spends $100,000 to pay college costs over four years with a 5% interest rate loan – which is roughly in the range of interest rates charged by the U.S. Department of Education Student Loan Program (see table below). If the student must borrow the entire $100,000 with an interest rate of 5%, it would take approximately 30 years paying nearly $540 a month to pay off the loan in full.   
The total paid over that period would come to nearly $194,000 – nearly double the loan amount. So every dollar you or your child can put away ahead of time could potentially save nearly $2 dollars in debt payments after the child graduates.
In other words, if you and your child could put away $25,000 for college, you could potentially save nearly $50,000 in repayments later. Saving $50,000 ahead of college could potentially save your child nearly $100,000 in payments. 
The following table lays out the current rates on student loans acquired through the U.S. Department of Education Student Loan Program1.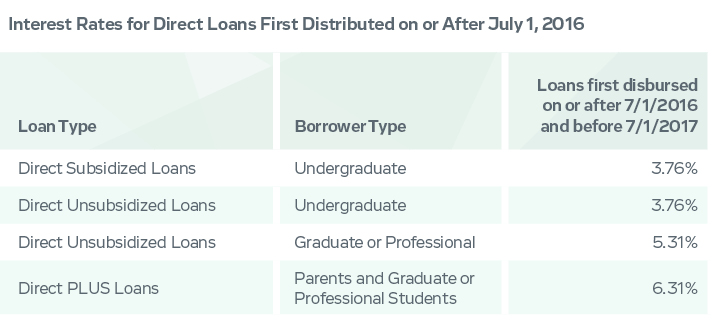 While saving $25,000 to $50,000 for your child's education may sound like a herculean task, if you start early and contribute consistently, it may not be as difficult as it seems. 
For instance, let's say, hypothetically, that you set up a tax-deferred savings plan (more on that later) and contribute just $1,000 a year – that's less than $100 a month. If you earn a 4% average annual return on your investment, after 18 years, your college savings plan would have grown to about $25,650. If you're able to save $2,000 a year (about $167 a month), with an average annual return rate of 4%, your savings would grow to about $51,300 after 18 years. Based on the above example of a loan with a 5% interest rate, that would, hypothetically, save your child about $100,000 in loan repayments after graduation. 
If you're starting late, however, you may need to save a little harder – or maybe enlist any willing grandparents, aunts, uncles or other interested loved ones in the savings process. If your child can also save a little by taking on a part-time job as a teenager, that could also help limit the debt accrued during college. 
In addition to saving, many students choose to work a few hours a week during college to help cover expenses and limit their student debt. Earning just $500 per month during the nine-month school year over four years would add up to $18,000 – which could make a significant dent in the total student debt. 
It may also pay to look for other funding sources, such as financial aid and scholarships that can help students defray the cost of education, as the following section explains.
Scholarship and Aid Opportunities
College students may reduce their student debt still further through student aid programs, work-study programs and a variety of scholarships that are offered through organizations geared to helping students pay some of their college costs. 
One non-profit organization, Scholarship America, offers a wide range of resources for students and their parents designed to help with educational funding. By visiting the Scholarship America website, you may find a variety of options to help you defray college costs. For instance, the site provides information on student funding opportunities in several key categories:
A list of about 50 corporations, organizations and foundations that offer millions of dollars in scholarships for students in need. For example, one of the participants is Dr. Pepper, which offers a "Tuition Giveaway Promotion and Contest" that students 18 to 24 years old may enter by submitting an essay on the theme "One of a Kind." Last year winning participants were awarded a total of more than $1 million in scholarships. 
A list of more than 1,000 "Dollars for Scholars" community organizations that offer scholarships through financial partners and fundraising events. All of those organizations are featured at the Scholarship America website. For instance, the Dollars for Scholars organization in Shakopee, MN, reports at the Scholarship America website that since its chapter began in 1979, "cumulatively, we have awarded over $1.2 million to 2,740 students during our existence."
A list of about 300 colleges, universities and post-secondary accredited institutions that support the Dollars for Scholars program in a variety of ways, including about 100 schools that offer matching student aid for students who earned Dollars for Scholars scholarships from other communities or organizations. 
Tax-Advantaged Savings Accounts
When you begin saving for your children's education, you may wish to enroll in a plan that offers a tax-deferred investment option for the money you save. Here are three of the most popular tax-advantaged savings plans:
Coverdell Educational Savings Account (CESA): You may set aside up to $2,000 a year in a Coverdell account for a designated beneficiary under age 18 to pay for qualified expenses2 at an eligible educational institution, which can be either a qualified higher education or qualified elementary or secondary school. No contributions can be made to a Coverdell after the beneficiary reaches age 18, unless he or she is a special needs beneficiary. Although the money you contribute is not deductible from your current taxable income for tax purposes, the savings within the account grows tax-deferred, and the distributions used for qualified educational expenses are also tax-free. (See Coverdell Education Savings Account to learn more)
529 Plans: These plans provide the opportunity to either pre-pay education costs or contribute to a tax deferred savings account. Most 529 Prepaid Tuition Plans are sponsored by state governments and require state residency for eligibility. When you open an account, in most cases, the money you contribute is converted to units or credits to be used in public, private or religious K-12 (up to $10,000)  and college and university education. The credits generally may be used to cover things like tuition, books, tutoring and, in some cases, room and board.
Money contributed to a 529 Savings Plan is not deductible from your current federal taxable income, but earnings within the Savings Plan are tax deferred and may be withdrawn tax-free if that money is used to cover eligible education costs for the beneficiary. (See: How to Choose a 529 Educational Savings Plan)
Roth IRAs: This may be a more flexible option for parents who are not sure how much they'll be able to contribute to their children's education without severely curtailing their own retirement savings plan. While the Roth is a form of "Individual Retirement Account" that is generally used to save for retirement, you can use funds from a Roth IRA to cover your children's qualified educational expenses. While you would face a 10% penalty for withdrawing investment earnings beyond your total contributions prior to age 59½ if the money is used for your retirement needs, you would face no such penalty if the money is used for your children's qualified educational expenses (although you would have to pay income tax your investment gains). You can open a Roth and start contributing at any time as long as you meet the income requirements.3 (Learn more about the Roth IRA) 
After establishing a Roth IRA, you can wait until your child is ready to start college to determine whether to use it towards their educational expenses. If your retirement nest egg is well funded by then, you might opt to spend much of your Roth savings on educational expenses. But if you find yourself drastically short of retirement savings as your children head for college, you may decide to keep most of the Roth savings for yourself and encourage your children to look for other sources of funding, such as scholarships, student, aid and work-study opportunities to fund their education. 
Saving for both your retirement and your children's educational costs may require great sacrifice over many years. But by starting early, investing persistently, and exploring the broad range of options for scholarships and other educational funding you can help you get your children on the right track without significantly undermining your own retirement plans. 
At Thrivent Mutual Funds, we recommend you consult your tax advisor to make sure you're getting the most out of your investments. Thrivent Mutual Funds and their representatives cannot provide legal or tax advice.
---
1 https://studentaid.ed.gov/sa/types/loans/interest-rates
2 Qualified higher education expenses include the following:
Tuition and fees
Books, supplies, and equipment
Expenses for special needs services required by the beneficiary in connection with enrollment or attendance of an eligible school
Expenses for room and board for students who are enrolled at least half-time (half time is defined as a student doing half the work load of a full-time student)
The purchase of computer or peripheral equipment, computer software, or Internet access and related services if it is to be used primarily by the beneficiary while enrolled in school.
3 Roth IRA contribution limit in 2018 for those under 70½: lesser of $5,500 or 100% of earned income, with catch-up contribution limit of $6,500 for those over 50. Roth IRA income limits: single, eligible for full contribution up to $117,000 with gradual phase-out to $132,000; married, eligible for full contribution up to $183,000 with gradual phase-out to $193,000.