Investors seeking income have had some limited choices in recent years, with bond rates at historically low levels. But for investors in search of income, the Thrivent Limited Maturity Bond Fund (THLIX) may be an intriguing option.
Greg Anderson, vice president, fixed income, acknowledges that generally the higher the yield you want, the greater the risk you may need to take. But with THLIX, the objective is to flip the script.  "We want to be able to generate more yield than our peer group with less risk," he said. "We try to do that in three ways:  sector allocation, duration and yield curve management, and security selection."
The Fund is diversified across many sectors and has a significant allocation in the consumer and housing and mortgage area, which have been two of the strongest areas of the economy recently. Specifically, that would mean areas such as home loans, auto loans, student loans, and credit cards that are supported by a strong consumer and rising home prices.
"We're looking at the areas of the market that offer the most yield for the least amount of risk," added Anderson. "When you look at the U.S. economy in total and look for the areas that are performing the best, that would be the consumer sector and the housing and mortgage sector. When you look at the Fund and how it's structured, you're going to see an emphasis in those areas."
The fund focuses on the "securitized" market – pools of loans and receivables typically in the consumer debt and mortgage areas. "Typically, these securities are issued from a bankruptcy remote trust, so unlike a corporate bond, you don't have the risk of the whole issue defaulting," he explained. "There may be specific loans within the trust that default, but you have a diversified pool of assets within a trust that mitigates the impact of a single default."  (While diversification can help reduce market risk, it does not eliminate it. Diversification does not assure a profit or protect against loss in a declining market.)
For example, the Fund recently invested in a trust of consumer loans that was both over-collateralized and made up of loans from borrowers with strong credit scores and the apparent means to pay the debt. "The borrowers would be unlikely to default on these loans," explained Jon Paul Gagne, securitized senior research analyst, "and you would need a lot of these to default for the bond to incur a loss."
Another bond the Fund recently invested in was a pool of mortgage loans to borrowers who couldn't qualify for a conventional mortgage but still appeared to have sufficient income or assets to repay the loan. "Usually these loans carry a higher interest rate, but the credit enhancement on these bonds is extremely high, so there is a very low chance of default," said Gagne.
"Another sector is the non-performing market where some loans originated before the crisis," said Gagne. "These people are still working through the default or foreclosure process, so the loans are not rated." But with high credit enhancements and outstanding loans with solid current appraisals, the risk of default on the bond pool is very low. "You would need almost every loan in this pool to default in order to take a loss."  All of these bond examples offered yield that was comparable to or in excess of similar maturity corporate bonds.
Because of the uncertainty of fixed income market – with the Federal Reserve reversing course in 2019 on its earlier plans to raise rates – the Fund managers have tried to take an approach that will work out best for the long term.
"We look for opportunities to increase the duration of the Fund, which typically gives us better yield," explained Anderson. "If the global economy starts to pick up and get some traction, there is a lot of risk in long-term bonds. I think that the amount of yield you get in the Thrivent Limited Maturity Bond Fund for the amount of interest rate risk is pretty attractive relative to the market as a whole.
"We're being defensive on the types of securities that we put in the Fund because we think that the risk of recession is increasing," he added, "so we don't own a lot of those higher risk instruments such as high yield bonds. We're being very defensive in maintaining a high-quality bias, while still trying to generate more yield than our peers."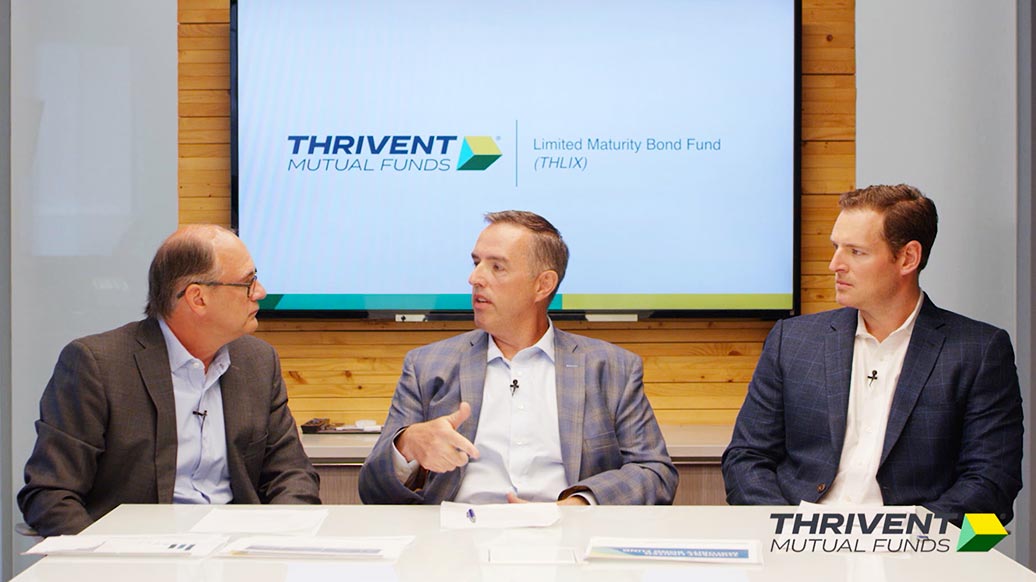 ---
The Fund primarily invests in investment-grade debt securities. The value of the Fund is influenced by factors impacting the overall market, debt securities in particular, and specific issuers. The Fund may incur losses due to investments that do not perform as anticipated by the investment adviser. Bond prices may decline during periods of rising interest rates. Credit risk is the risk that an issuer of a debt security may not pay its debt. The value of mortgage-related and other asset-backed securities will be influenced by the factors affecting the housing market and the assets underlying such securities. Collateralized debt obligations are subject to additional risks. In periods when dealer inventories of bonds are low in relation to market size, there is the potential for decreased liquidity and increased price volatility in the fixed income markets. These and other risks are described in the Fund prospectus.
Past performance is not necessarily indicative of future results.
All information and representations herein are as of 10/07/2019, unless otherwise noted.
The views expressed are as of the date given, may change as market or other conditions change, and may differ from views expressed by other Thrivent Asset Management associates. Actual investment decisions made by Thrivent Asset Management will not necessarily reflect the views expressed. This information should not be considered investment advice or a recommendation of any particular security, strategy or product.  Investment decisions should always be made based on an investor's specific financial needs, objectives, goals, time horizon, and risk tolerance.
This article refers to specific securities which Thrivent Mutual Funds may own. A complete listing of the holdings for each of the Thrivent Mutual Funds is available on ThriventFunds.com.