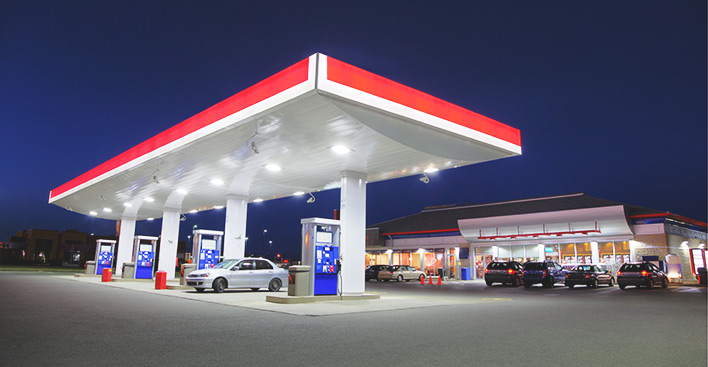 A steady increase in the cost of oil has pushed up prices at the pump to a national average of $3.00 per gallon through the end of May. But a recent dip in oil prices could finally signal a slow-down in the rising cost of gasoline.
The price of oil retreated 7.2% in the final 10 days of May as Russia and Saudi Arabia worked to hammer out an agreement that would increase the world's oil supply. After reaching a closing day high on May 21 of $72.24 per barrel, the price of West Texas Intermediate (a grade of crude oil used as a benchmark in oil pricing),  ended the month at $67.04.  
An earlier agreement by OPEC countries and Russia to curtail the supply of oil had pushed up oil prices from a low of under $30 a barrel in 2016 to the recent high of over $72. The reduction in global supply and the boost in prices have helped revitalize the U.S. oil industry – but it has also driven up the price at the pump for consumers.
If Russia and Saudi Arabia are able to reach a workable agreement on a supply increase, that could inhibit further price increases in the short-term, providing some relief for consumers.
Over the past year, gasoline prices have climbed about 19% to $3.00 on May 31 from $2.52 per gallon a year earlier. (See chart below.) The average price had reached a low of $1.83 per gallon in February 2016 during the depths of the global oil slump.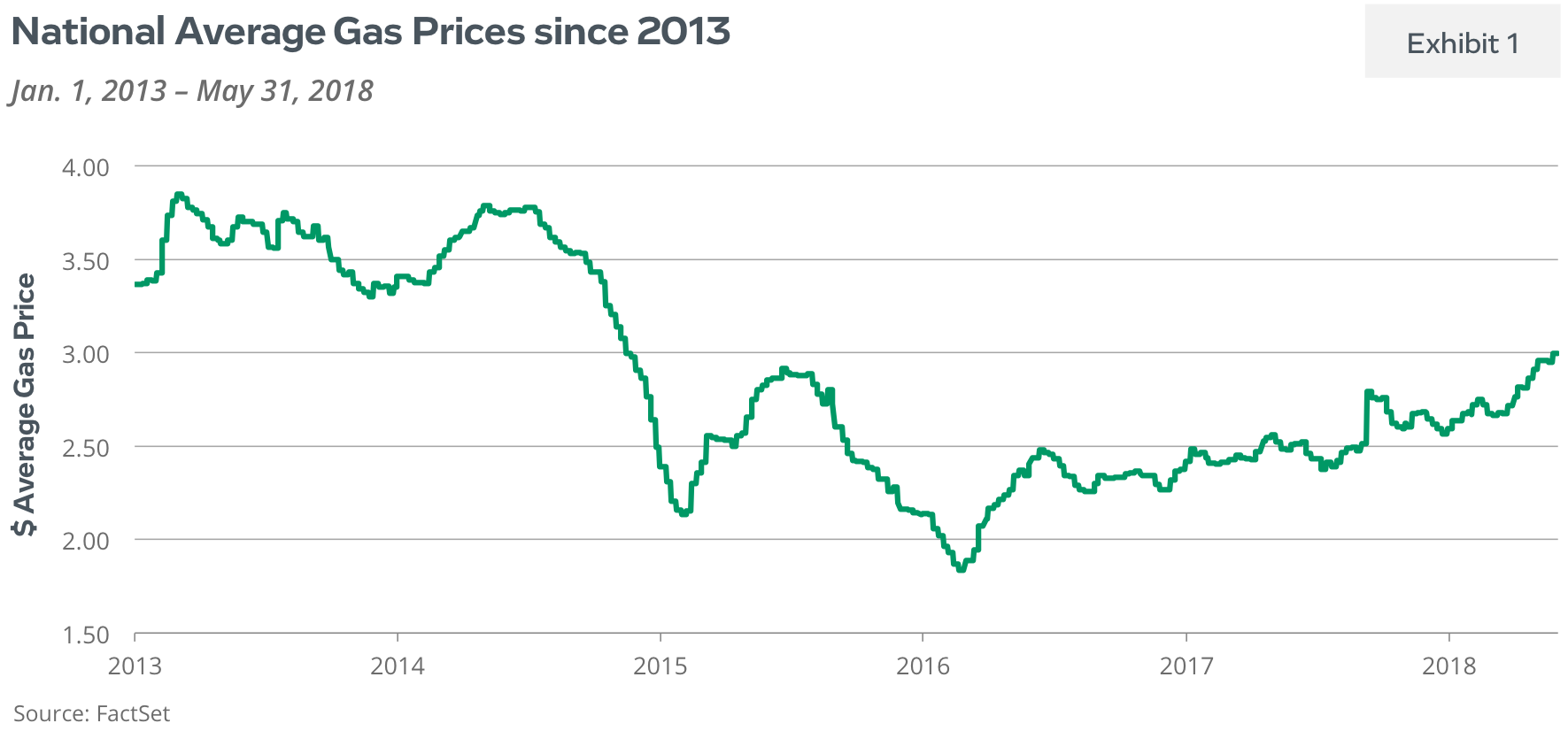 Even with the recent rise in gasoline prices, Americans are still dishing out a relatively small portion of their disposable income for fuel compared with historical levels (see chart below):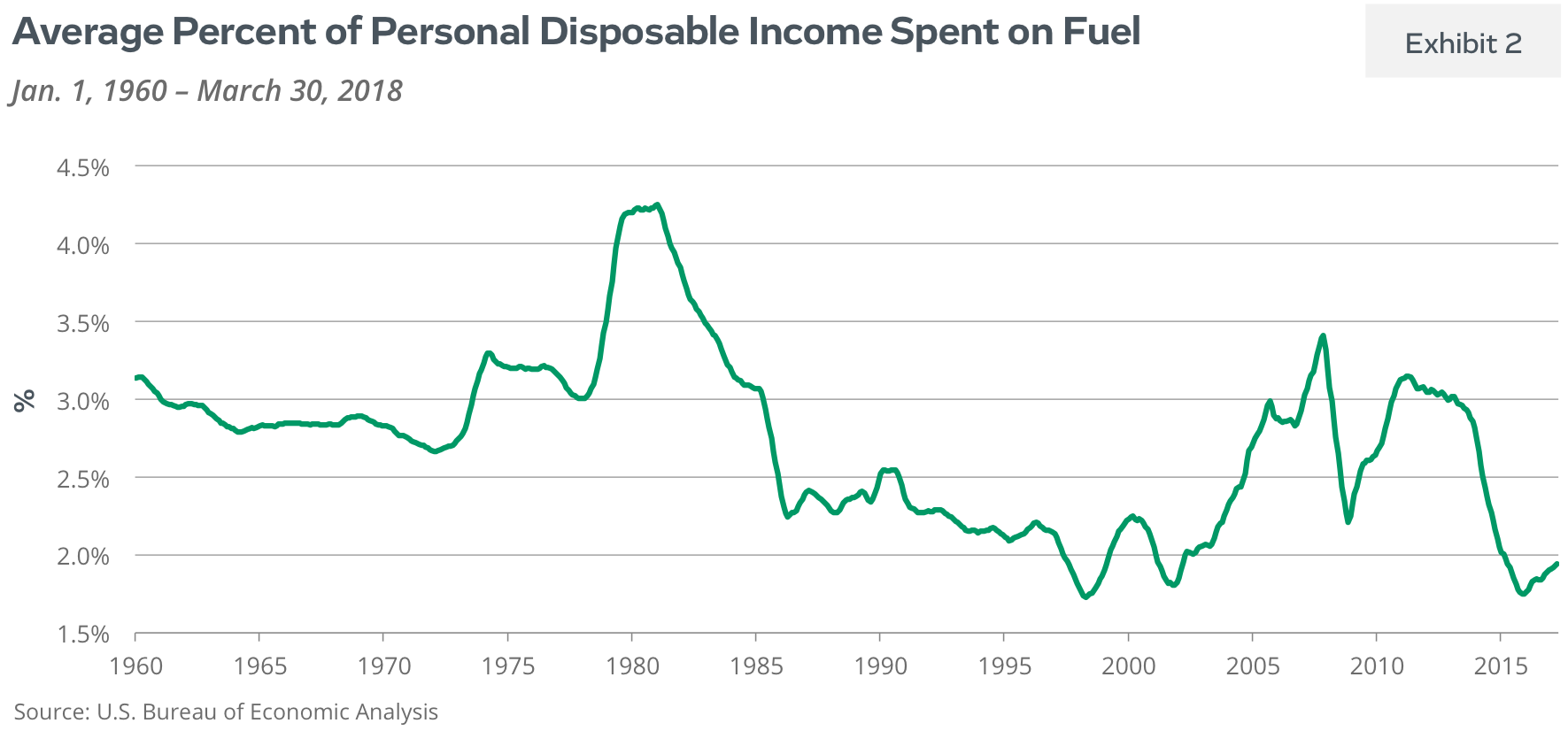 As the chart shows, while consumers paid more than 4% of their personal disposable income for gasoline in the early 1980s and over 3% in 2008, today gasoline consumption accounts for only about 1.9% of personal disposable income.      
Here are some other highlights from the past month covered in more detail later in this report:
Bumpy ride for stocks. The S&P 500® Index survived a volatile month, impacted by European economic problems and concerns over tariffs and trade policy, to move up 2.16% in May. (The S&P 500 Index is a market-cap-weighted index that represents the average performance of a group of 500 large-capitalization stocks.)
Retail sales up again. Retail sales improved for the second consecutive month, with a 0.3% increase in April, according to the U.S. Department of Commerce.
Unemployment hits 3.8%. Unemployment fell 0.1% in May as employers added 223,000 new jobs, according to the U.S. Bureau of Labor Statistics.
Manufacturing stays strong. U.S. manufacturing levels continued to increase nearly across the board in May, according to the Institute for Supply Management.
10-year yields dip. Interest rates on 10-year U.S. Treasuries dropped slightly in May. The Federal Reserve is expected to approve a small rate hike at its June meeting.
International stocks slump. Economic and political issues across Europe pushed stock prices down as the MSCI EAFE Index dropped nearly 3% in May. (The MSCI EAFE tracks performance of developed-economy stocks in Europe, Australasia and the Far East.)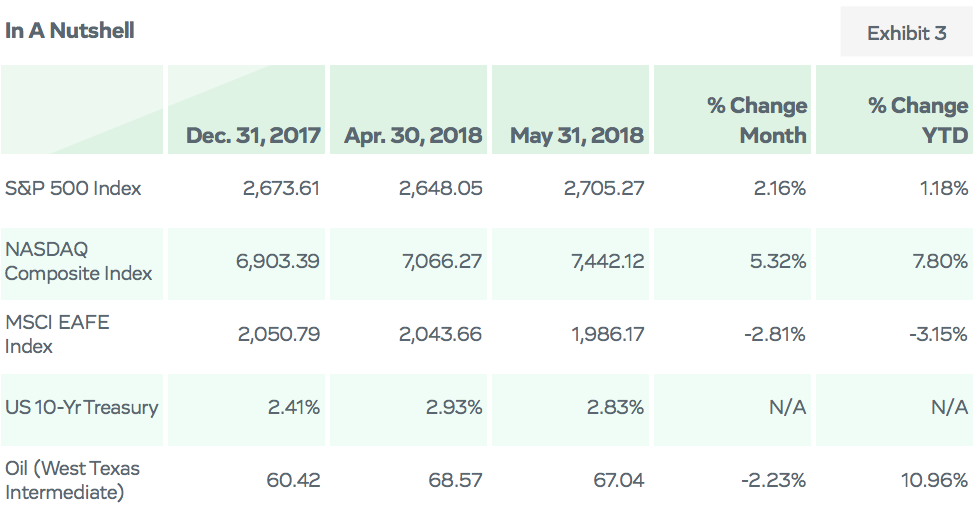 ---
---
Drilling Down
U.S. Stocks still volatile
The S&P 500 moved up 2.16% in May to finish the month at 2,705.27 – up from 2,648.05 at the April close.
The total return of the index (including dividends) was 2.41% in May. For 2018 year to date, the total return of the S&P 500 is 2.02%.
The NASDAQ Index had a strong May, posting a gain of 5.32% for the month. Year to date, the NASDAQ is up 7.80%. (The NASDAQ – National Association of Securities Dealers Automated Quotations – is an electronic stock exchange with more than 3,300 company listings.)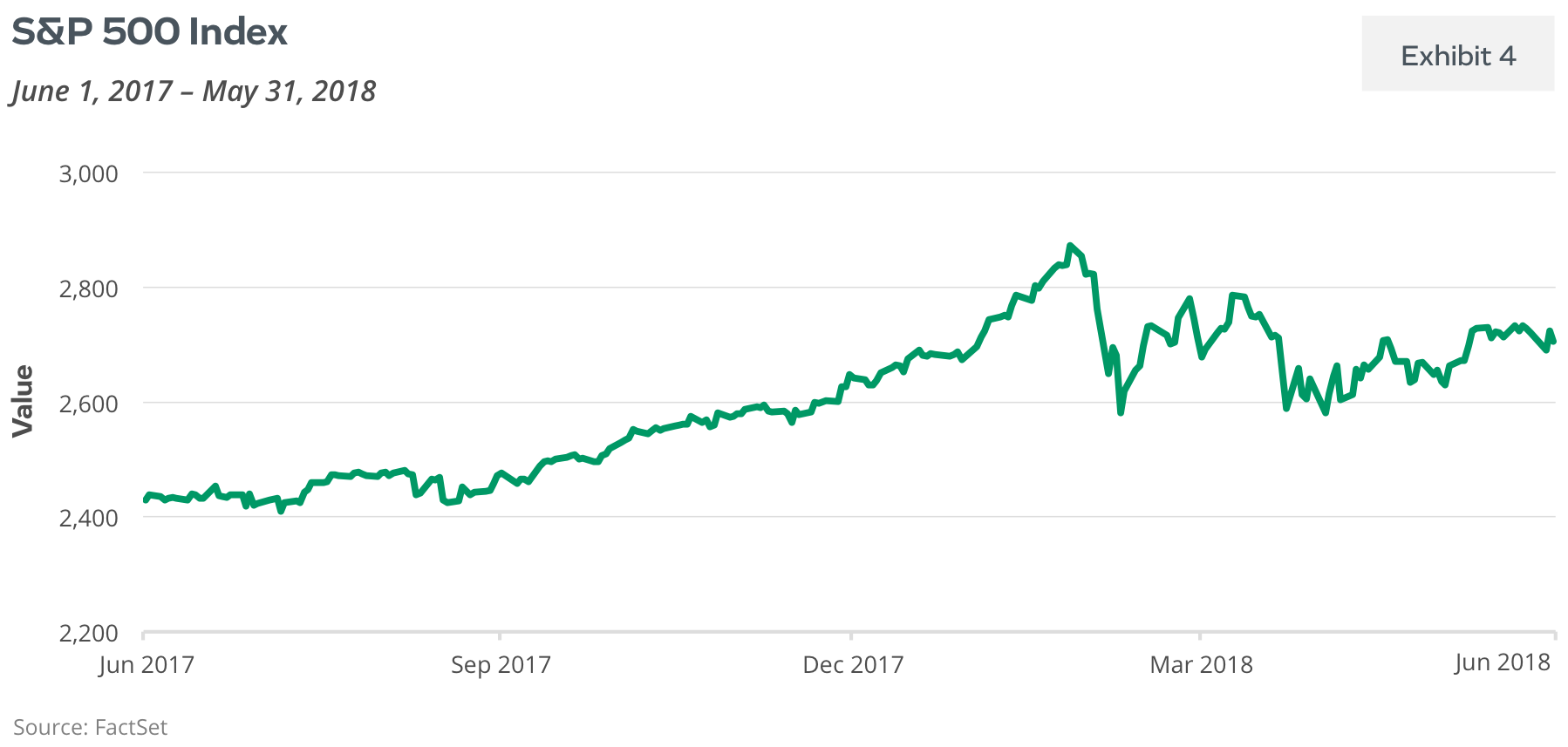 Retail Sales Continue Positive Trend
Retail sales increased by 0.3% in April following a 0.6% increase in March, according to the advance monthly retail sales report issued May 15 by the U.S. Department of Commerce. April sales were 4.7% above the level of April 2017.
Clothing and clothing store sales led the way with a 1.4% increase from the previous month – and a 4.1% gain year-over-year. With gasoline prices rising, gas station sales rose 0.8% for the month and are now up 11.7% year-over-year. Auto sales were up just 0.1% for the month and 4.3% from a year earlier. Nonstore retailers (primarily online) were up 0.6% for the month and 9.6% year-over-year.
Unemployment Falls Again
The U.S. unemployment rate dropped 0.1% to 3.8% in May – the lowest level since December 2000, according to the U.S. Bureau of Labor Statistics Employment Situation Report issued June 1.
The economy added 223,000 new jobs during the month. It was the 92nd consecutive month of job growth.
The average hourly earnings for all employees on private nonfarm payrolls rose by $0.08 to $26.92. Over the year, average hourly earnings have increased by $0.71, or 2.7%.
Manufacturing Expansion Continues
Economic activity in the manufacturing sector expanded in May, and the overall economy grew for the 109th consecutive month, according to the Institute for Supply Management (ISM) Report on Business, issued June 1.
Of the 18 manufacturing industries tracked by ISM, 16 reported growth in April, led by textile mills, non-metallic mineral products, electrical equipment, and appliances and components.
Technology Leads All S&P 500 Sectors
The S&P 500 Information Technology sector was up 7.37% in May, leading all 11 sectors for the month. The Energy sector was up 3.04% in May, following a 9.36% gain in April. Four sectors posted a loss for the month, with Telecom Services taking the biggest hit – down 2.28%.
The chart below shows the results for all 11 sectors:
Treasury Yields Down
The market yield on 10-year U.S. Treasuries fell to 2.83% at the end of May from 2.93% at the close of April. The yield is still up more than 0.4% for the year after closing 2017 at 2.41%.
The Federal Reserve Board (Fed) is expected to approve a small rate hike of 0.25% at its June meeting. That follows a 0.25% hike in March. The Fed has gradually raised the rate from approximately 0% to a target of 1.5% to 1.75% through six rate hikes from December 2015 through March 2018.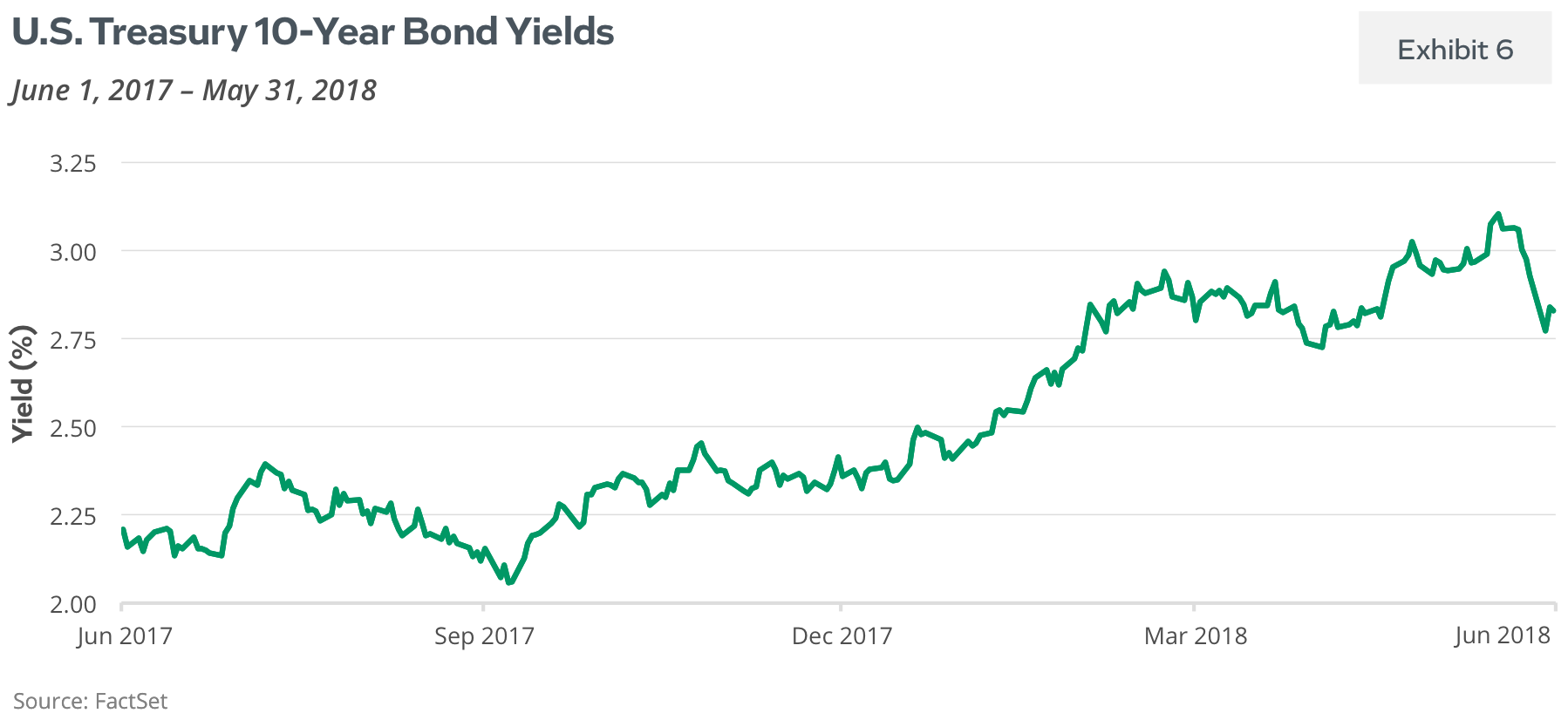 Oil Prices Slip
The price per barrel of the benchmark West Texas Intermediate crude slipped from $68.57 at the end of April to $67.04 – a 2.23% decline.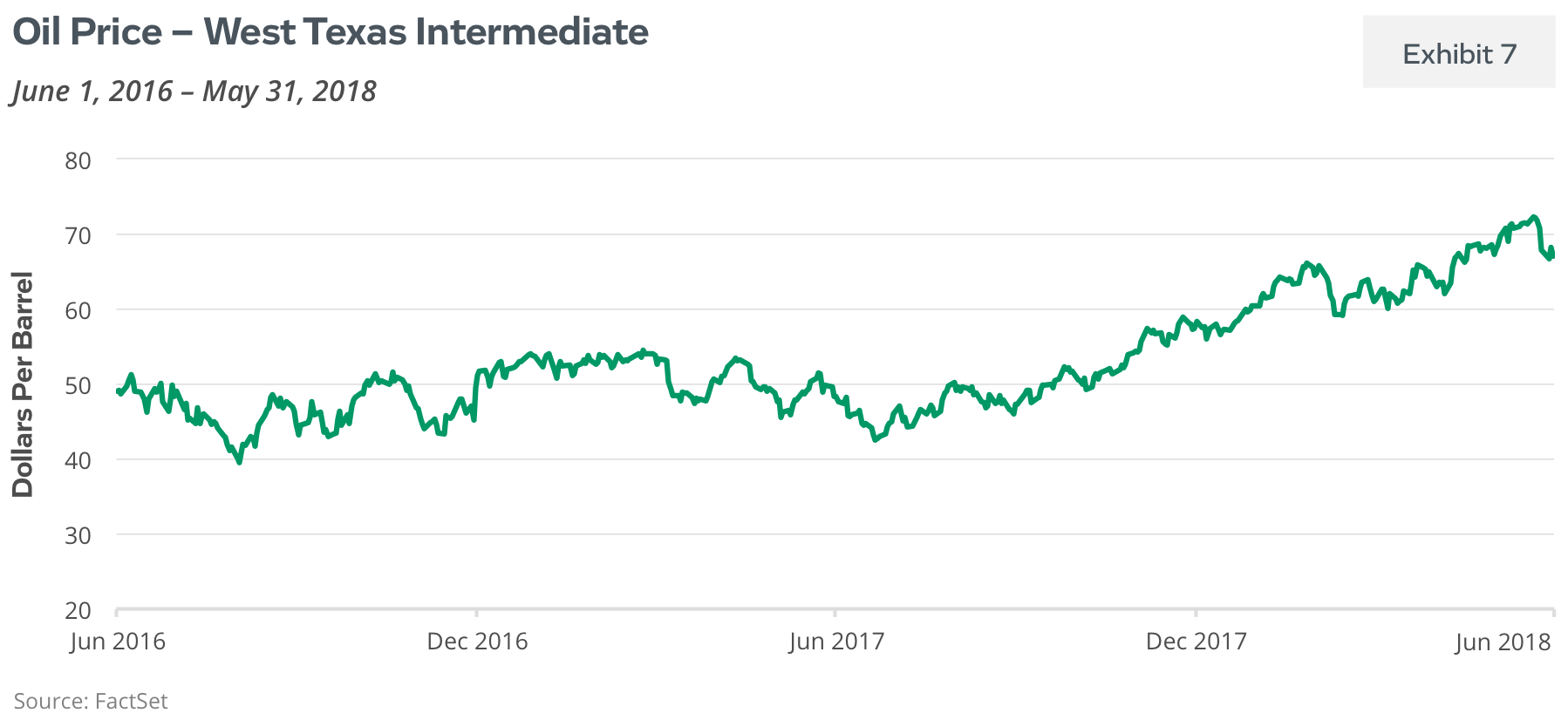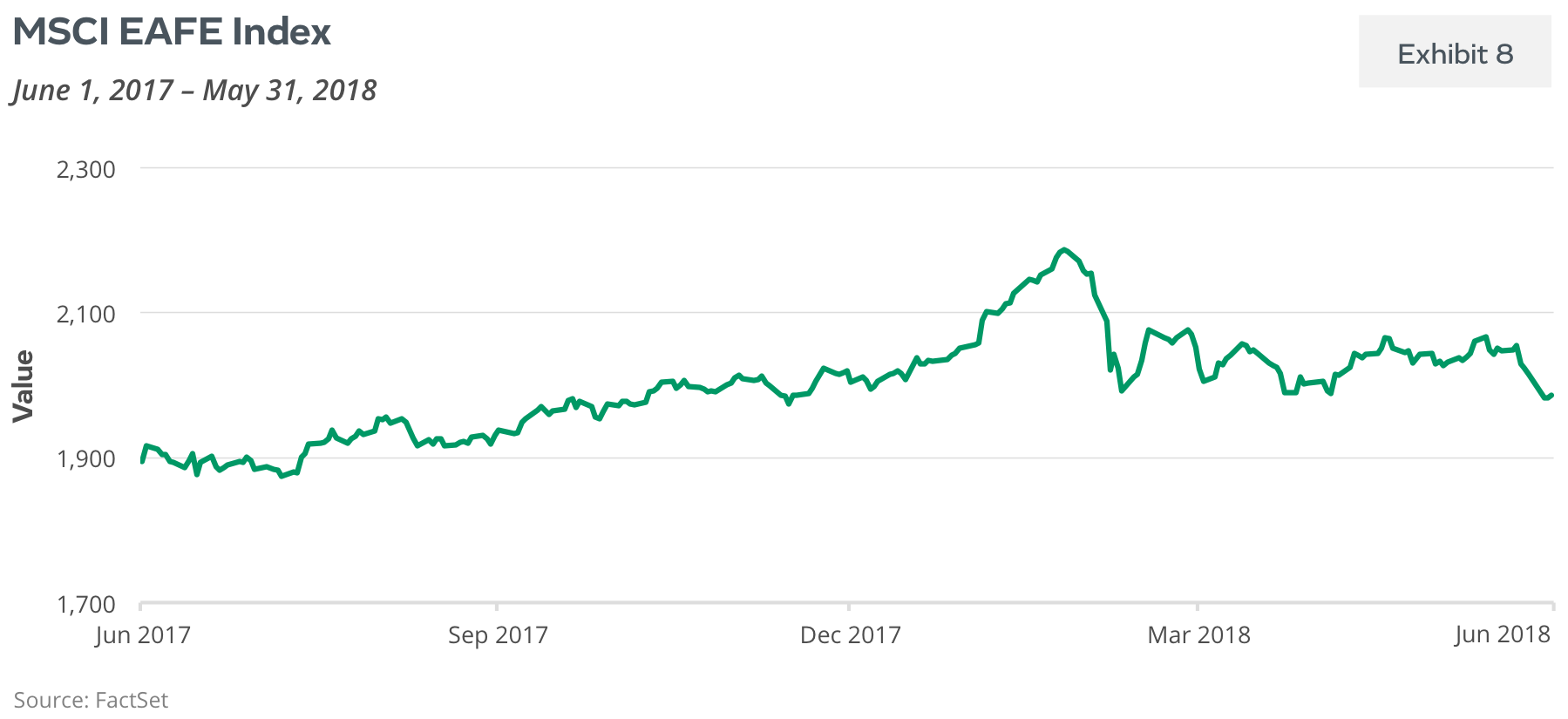 All information and representations herein are as of 06/04/2018, unless otherwise noted.
The views expressed are as of the date given, may change as market or other conditions change, and may differ from views expressed by other Thrivent Asset Management associates. Actual investment decisions made by Thrivent Asset Management will not necessarily reflect the views expressed. This information should not be considered investment advice or a recommendation of any particular security, strategy or product.  Investment decisions should always be made based on an investor's specific financial needs, objectives, goals, time horizon, and risk tolerance.
Indexes are unmanaged and do not reflect the fees and expenses associated with active management. Investments cannot be made directly into an index.
Past performance is not necessarily indicative of future results.