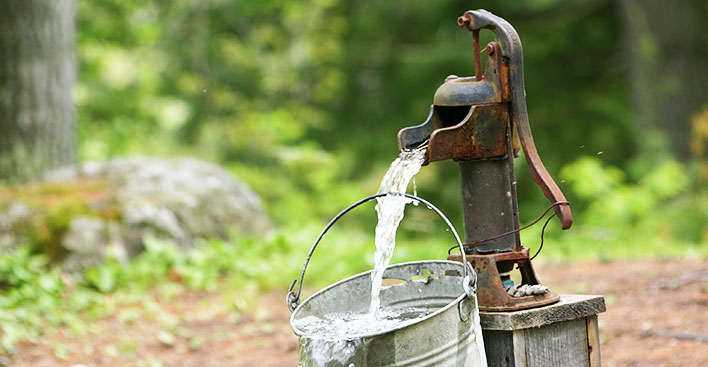 It's been a long wait, but income investors are finally starting to get a decent yield on their fixed income investments. After a long stretch of historically low interest rates – and very slight yields on lower-risk investments – recent interest rate hikes have created some attractive investment opportunities.
Yields are higher now across almost the entire income spectrum. But if you're an investor who is looking to maximize your income, it's our view that taking the right kind of risks has the potential to meaningfully enhance your income without unduly endangering your principal.

The Right Kind of Risk
Interest rates have risen substantially from earlier this decade, as U.S. economic growth has improved. In fact, the Federal Reserve (Fed) has raised rates nine times since December 2015, with the pace accelerating the last two years.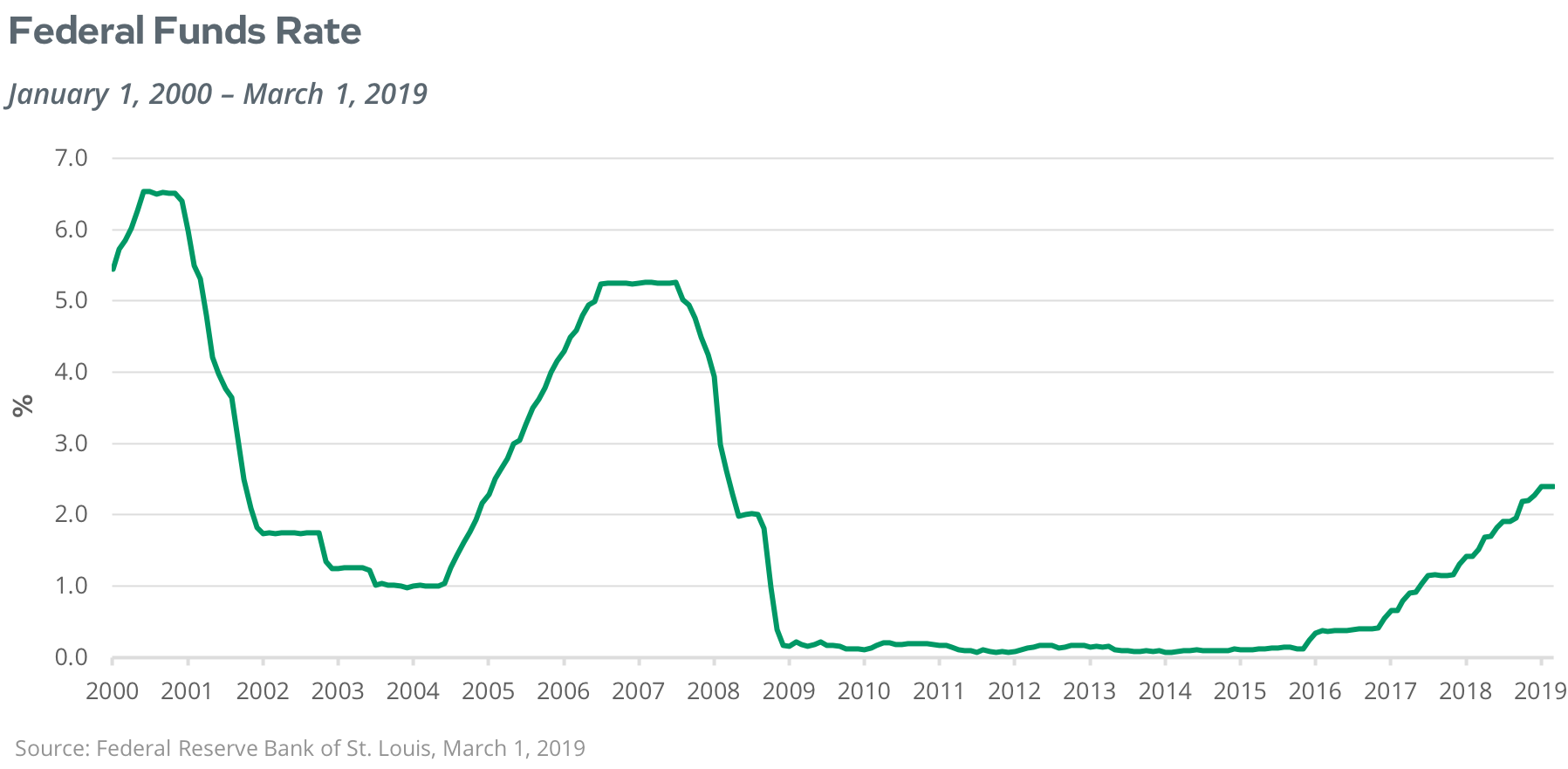 For now, the Fed has paused its rate increases, and we think rates will remain stable in the near term. Looking out toward the end of the year, however, we see the possibility for further rate increases if economic data remains strong. (See: Fed Pivot Could Aid Economy)
For income investors, we think the implication is clear – mid- to lower-quality securities may offer a better source of income than higher-duration securities. (Duration refers to a debt instrument's price sensitivity to changes in interest rates. As market interest rates rise, that typically drives down the price of existing fixed rate securities that are paying a lower yield than the market rates.) Higher-duration securities typically pay higher yields because they have more day-to-day volatility. These are usually bonds with fixed payouts and a long time to maturity, so every change in interest rates significantly impacts their value. They tend to do poorly when interest rates are rising.
You may also be able to get higher returns from lower-quality securities, such as junk bonds, because they face more credit risk – that is, a higher risk of default. But positive economic conditions lessen that risk, because bond issuers (and their banks) are better positioned to handle financial setbacks.
With the economy currently performing well and interest rates trending higher, we're in the type of environment that has historically been more favorable for taking on credit risk (the risk of default on a debt). It's also worth noting that, at present, interest rates on long-maturity investments are not significantly higher than interest rates on short-maturity investments. As a result, we believe that staying in short maturity securities and taking on higher credit risk could provide a better combination of risk and reward.

Income and More Income
Currently, most savings and money market accounts offered by banks still pay little more than 0%, and most bank certificates of deposit (CDs) offer yields of well under 2%. So, it's great news for income investors that low-risk, highly liquid money market funds are offering meaningful yields again of around 2%. (See current yield of the Thrivent Money Market Fund.)
While money market funds can be a good option for short-term savings, we believe there may be better choices for investors with a longer-term outlook – particularly if you're willing to take on some credit risk. For example, the Thrivent Limited Maturity Bond Fund (THLIX) has a very short duration (low interest-rate risk) and has recently offered a yield of 2.85%. The portfolio enhances yield with securitized debt, such as government-guaranteed residential mortgage-backed securities, and short-term, investment grade corporate bonds.
The yields for this Fund and the others discussed in this article are based on the distributions paid and the net asset value of the fund. Yields quoted here are "30-day SEC" yields calculated based on the previous 30 calendar days ending February 28, 2019.i For the most recent yields on all Thrivent Mutual Funds fixed-income funds, see: Thrivent Mutual Funds Fixed Income Options.
Seeking Higher Yields
The same thinking applies to investors who are looking for higher yielding opportunities. One example is the Thrivent Opportunity Income Plus Fund (IIINX). This Fund has relatively short duration (three years) and has recently offered a yield of 3.74%.
Approximately one-third of the Fund is invested in floating-rate leveraged loans, which are bank loans to lower-quality U.S. corporations. They offer a higher yield (currently around 7%) and have performed relatively well in the recovering economy. The Fund also invests in securitized debt, international debt, and corporate bonds, including high yield. Each of these investments carry more credit risk than interest rate risk. We focus on mitigating that risk by conducting extensive research and by diversifying our holdings.

Another approach to balancing interest-rate and credit risk can be seen in the Thrivent Income Fund (LBIIX), which invests primarily in investment grade corporate bonds. The Fund gets a yield boost by investing in high yield bonds and floating-rate leverage loans. The Fund has less credit risk than Thrivent Opportunity Income Plus Fund but has double the duration (six years). Its recent yield was 3.82%. (See current yield)
Moving Along the Credit Risk Spectrum
Further out in the credit risk spectrum would be a high yield bond fund. The Thrivent High Yield Fund (LBHIX) invests predominantly in high yield corporate bonds. For that higher credit risk, it has traditionally paid a higher yield than the Thrivent Income Fund (it was recently yielding 6.06%). (See current yield) We prefer the middle area of the high yield market—B rated bonds—over higher risk CC and CCC bonds (as rated by Standard & Poor's), because we think the risk tradeoff is better. While high yield bonds are not as attractive as they were following the sell-off in stocks and high yield bonds in late 2018, we think they still offer value.
Alternative income strategies can also enhance yield by carefully choosing credit risk opportunities. The Thrivent Multidimensional Income Fund (TMLDX) invests in a broadly diversified set of higher yielding debt, including preferred securities. 'Preferreds' combine features of debt and equity, in that they pay fixed dividends, but have a higher potential to appreciate in price. The Fund also invests in closed-end funds and convertible bonds (bonds convertible into equity), both of which carry higher risk and offer higher potential returns than traditional bonds. The Fund has a relatively short duration of 3.4 years and was recently paying a yield of 4.39% (30-day SEC yield pre-waiver was 3.65%.ii). (See current rate)
Don't Forget Munis
Finally, if you are in a high tax bracket or live in a high-tax state, you may want to consider a municipal bond fund. Municipal bonds are bonds issued by state and local governments to finance public projects such as roads, bridges, schools, and hospitals. The interest they pay is exempt from federal taxes and, in some cases, from state taxes, although any capital gains distributions, as well as realized capital gains from selling fund shares, may be taxable. For certain investors, their after-tax yields can be significantly higher than for other types of bonds.

For example, the Thrivent Municipal Bond Fund (TMBIX) was recently paying a yield of 2.27%. (See current rate) That may seem small, but the tax-equivalent yield can be significantly higher (as compared with taxable bond funds), as the graph below illustrates: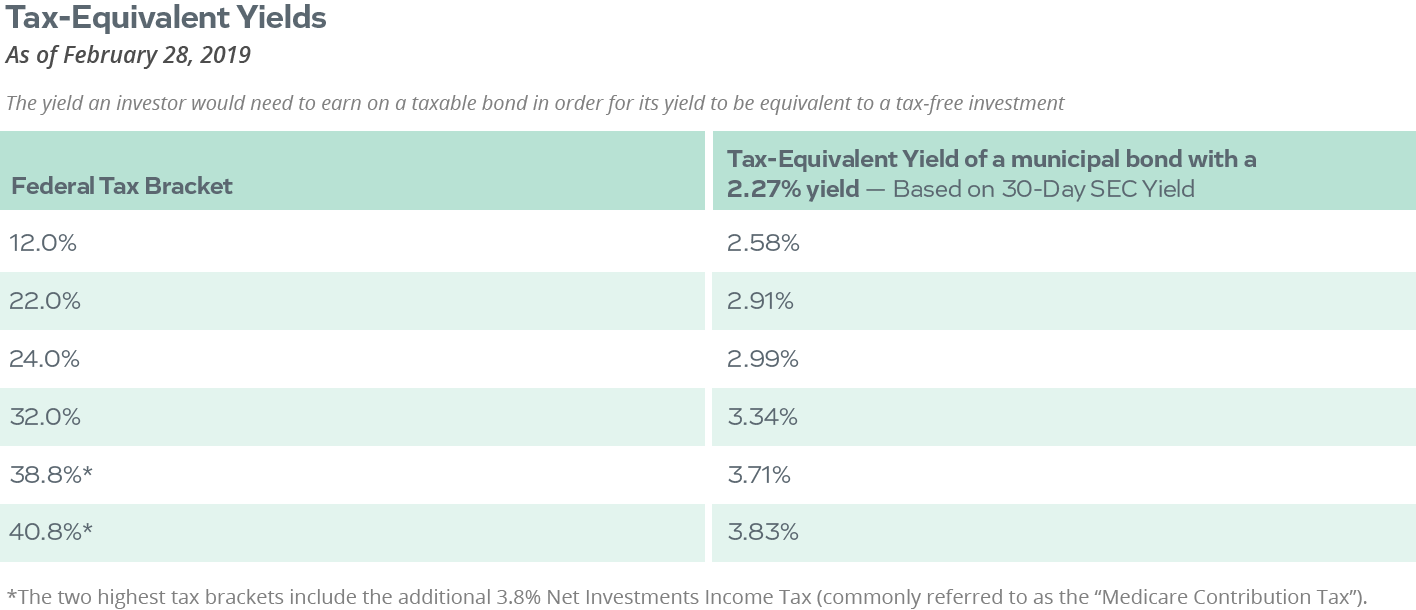 We believe that it also makes sense to take strategic credit risks in the muni market, since default rates are typically lower than in the corporate bond market. For example, the Thrivent High Income Municipal Bond Fund (TMBIX) has recently paid a higher yield of 3.18% (30-day SEC yield pre-waiver was 0.66%ii), which may compare favorably to other fixed-income options on a tax-equivalent basis. (See current rate)
While fixed-income yields are still low by historic standards, rates have finally begun to move up to a range where income-seeking investors can get a bit more return on their investments.
The following chart shows the 1-, 5- and 10-year annualized returns of each of the Thrivent Funds fixed income funds discussed in this article: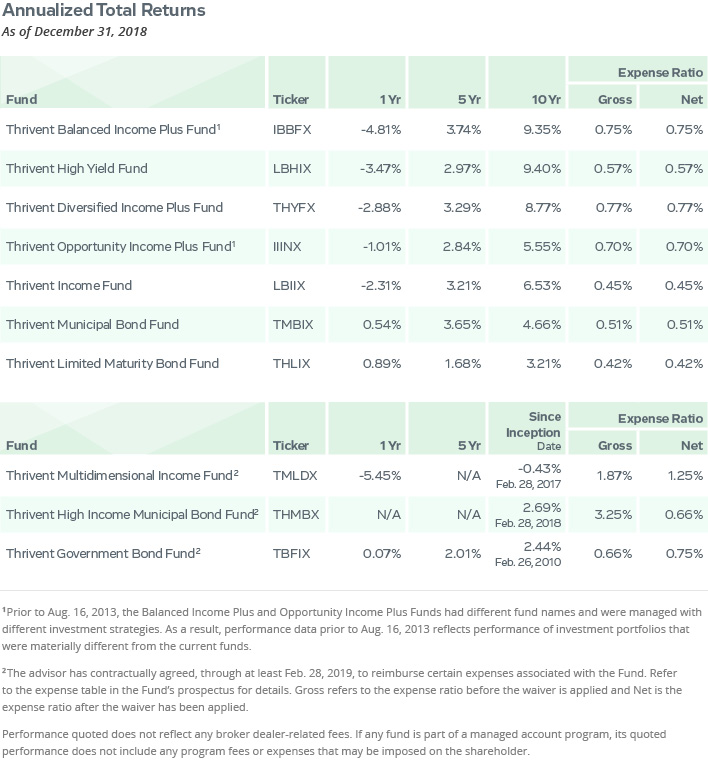 All data represents past performance. Past performance does not guarantee future results. The investment return and principal value of the investment will fluctuate so that an investor's shares, when redeemed, may be worth more or less than the original cost. Current performance may be lower or higher than the performance data quoted. Call 800-847-4836 or visit ThriventFunds.com for performance results current to the most recent month-end.

All information and representations herein are as of March 25, 2019, unless otherwise noted.
The views expressed are as of the date given, may change as market or other conditions change, and may differ from views expressed by other Thrivent Asset Management associates.
This information should not be considered investment advice or a recommendation of any particular security, strategy or product. Investment decisions should always be made based on an investor's specific financial needs, objectives, goals, time horizon, and risk tolerance.
We recommend that you consult your tax advisor to make sure you're getting the most out of your investments. Thrivent employees and their representatives cannot provide legal or tax advice.
i 30-Day SEC yield is a standardized yield calculation developed by the Securities and Exchange Commission (SEC). It captures the net investment income earned by a fund over a 30-day period, after the deduction of the Fund's expenses. It's an annualized percentage, based on the Fund's share price on the last day of the period. Since share prices and yields are subject to fluctuation, current yields should not be considered an indication of future results.
ii This yield calculation is similar to the 30-Day SEC yield but shows what the Fund's yield would be without any fee waivers or expense reimbursements.  Refer to the expense table in the fund's prospectus for details.