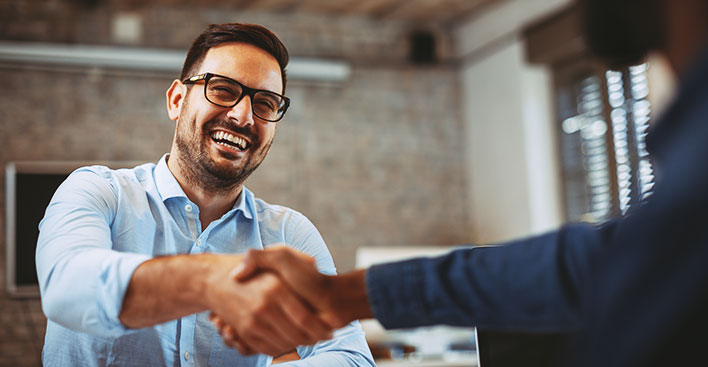 It's natural to want prospects and clients to like us. After all, they're much more willing to work with someone they like. Simple, right?
Yes, but it's only half the equation. What happens when we like them first?
What happens, according to Robert B. Cialdini, author of "Influence," is that we become better advisors.  In fact, he states, "the first rule of building a relationship is for you to like the prospect first." 
His reasoning is that it's human nature to want to protect the interests of those we like. Prospects can sense that and will open up to us. It's a win-win.
Give Them a Chance to Win You Over
The truth is, not all prospects are likeable. But before you judge, you need to give them a chance to show you their good side.
In my experience as a broker, I met a prospect named Mark who I was convinced would be someone I would have a hard time warming up to. 
He was a small-town accountant I'd only met once. It was an uncomfortable first meeting, even in a group. Our lifestyles and outlooks seemed worlds apart – judging from his bumper stickers, gun rack, and tattoos. Don't get me wrong – I'm all for the freedom to make those choices. It's just that we seemed to have very little in common.
So, I wasn't exactly looking forward to our first one-on-one meeting. I didn't know any of Larry the Cable Guy's jokes. And he looked like one of the guys who beat me up in high school. I focused only on wanting Mark to like me enough to gain a new client. And that was optimistic. Realistically, it would be enough if he didn't hurt me.
We'd scheduled a breakfast at a truck stop in his town. It's one of those places that still considers Salisbury Steak as one of their specialties. I went into the meeting with no clue on how I'd establish a personal connection. My plan was to just do the presentation and make no sudden moves.  
But before I could open my briefcase, Mark pulled out his iPhone.
"Here," he said, handing me the phone, "take a look at this video and tell me what you think.". 
I imagined I was about to watch a do-it-yourself video on how to make moonshine. Suddenly, my thoughts were drowned out by the roar of John Deere engines. It was a video of Mark and his friends racing riding lawn mowers around an obstacle course. Lots of mud and an Evil Knievel jump at the finish line. The only things missing were teeth and helmets. It was hilarious. I couldn't stop laughing.
Two minutes earlier, I'd been sitting across from this man — terrified – thinking of what to say and wishing I'd called in sick. He turned the tables on me. I'd been so worried about how I'd get this guy to like me, it never occurred to me that I might like him. I laughed so hard I forgot that I was nervous.  My guard came down and I relaxed.
We talked about family and business. We got to know each other. He said that he liked our firm, but he'd been having a problem with customer service. I was more than happy to help him; not just because it might convince him to be a client, but because I really wanted to help him. I liked him.  He made me laugh. 
As our business relationship grew, I grew to like him even more. I learned he had two soft spots. First, there was that dent in the side of his head from a riding mower accident. "Dang," he had said to me, laughing and rubbing the side of his head, "I didn't see that branch hanging over the trail."
His other soft spot was his daughter, Emma.  She was seven years old and had autism. He got teary-eyed when he talked about her. I was honored and touched that he shared such personal thoughts with me, and I'm certain that it wouldn't have happened if we hadn't shared that first laugh together.
Remember Cialdini's first rule of sales?
Come to like the prospect first.
When people sense that you genuinely like them, they will want to do business with you. People put up a shield when they feel that you're only concerned about your own interests – even if you're the best advisor from the best firm.
If you're lucky, you'll run into a prospective client, like Mark, that makes the process easy. In the meantime, try these four tips to train yourself to see likeability when it might not be so obvious at first glance:
4 Ways to Discover the Likeable Qualities in Others
1. Ask open-ended questions that are likely to get them talking. 
"What do you like to do for fun?"
If their answer is, "Feed advisors feet-first into the wood chipper," you might want to exit stage left. But, if you bring it up in a natural point in the conversation, the question is very effective in drawing out your customer's personal side.
Prospects know that you are there to get their business and think that you may use some slick or savvy techniques designed to manipulate them. So, they may be guarded at first. But if they sense you're sincere in your interest, they'll light up when they share things that they're passionate about.
2. Remember, it's about them.
Let them be the heroes of their own stories. If they say something like, "I finished the 5k race in 28 minutes, don't say, "Cool. I average 19." Or, "My grandmother did it in 23".
You want them to share and to feel good about themselves. And if you find you have something in common, so much the better. But resist the urge to chime in with your bigger, better, badder version of their accomplishments. You're not going to discover their likeable qualities when you're yapping about yourself. Unless their most likeable qualities are patience and restraint, photo bombing someone else's moment is never a good idea.
3. Find a conversation starter.
Look at photos or memorabilia on the wall or credenza. Chances are, they're there because they mean something, and your customer is likely to be happy to open up about it. Their comments can give you insights into the person behind the job title.
Make sure to keep your inquiries neutral at first because, all too often, things aren't what they seem. Probably not a good idea to say something like, "Wow, that guy is out of shape!" only to hear your prospects icy response, "That's me, ten years ago."
Or worse, "That's my SPOUSE!"
Instead, take a cue from the photo's setting. That's a great opening to ask about where it was taken, or to use as a jumping-off point. "Ah, I see you're a golfer. What's your favorite course?"
4.  Ask about their career.
"What got you started in this business?"
Successful people like to talk about their journey at work. They're pleased when you show a genuine interest. Most advisors don't ask, much less really listen to the answer. So, as your customer describes the amount of education and grit it took to get to his current position, you're getting a window into that person.
Sometimes, the answer can come as a complete surprise, with details that are funny, bizarre or endearing – things that would never show up on LinkedIn. It's hard to warm up to a resume, which almost always omits the fun parts – like that first job handing out coupons while dressed as a chicken. A real person, though, just might fill you in. What's not to like about a chicken? 
David Goldman works with financial professionals on sales and presentation strategies through his firm, The Laughing Stockbroker.