Although small cap stocks have historically outperformed large cap stocks, that trend has been reversed since 2011, with large caps consistently outperforming the small cap universe.
Let's examine the reasons behind the recent trend and look at the prospects for small stocks going forward.
Relative valuation has been a primary catalyst for the shift in performance. In the late 1990's, small caps were relatively inexpensive, partly owing to the effects of the internet bubble and the excessive valuation of large cap stocks at that time.
When the internet mania peaked, it ushered in a period of good relative returns for small caps that persisted until 2011. Since then, relative valuations as well as better earnings fundamentals for large cap stocks have bolstered returns to that group relative to small cap stocks.
The following three charts compare the performance of the S&P 500® Index with the S&P SmallCap 600®, which is a market-cap weighted index that represents the average performance of a group of 600 small-capitalization stocks – based on growth of a $10,000 investment. These are hypothetical and do not represent the results of an actual investment. (The S&P 500 is a market-cap-weighted index that represents the average performance of a group of 500 large capitalization stocks.)
As the chart below shows, small cap companies have provided a significant return premium to large stocks over longer periods of time. The primary driver of that premium is the higher rate of earnings growth attributed to that segment of the market.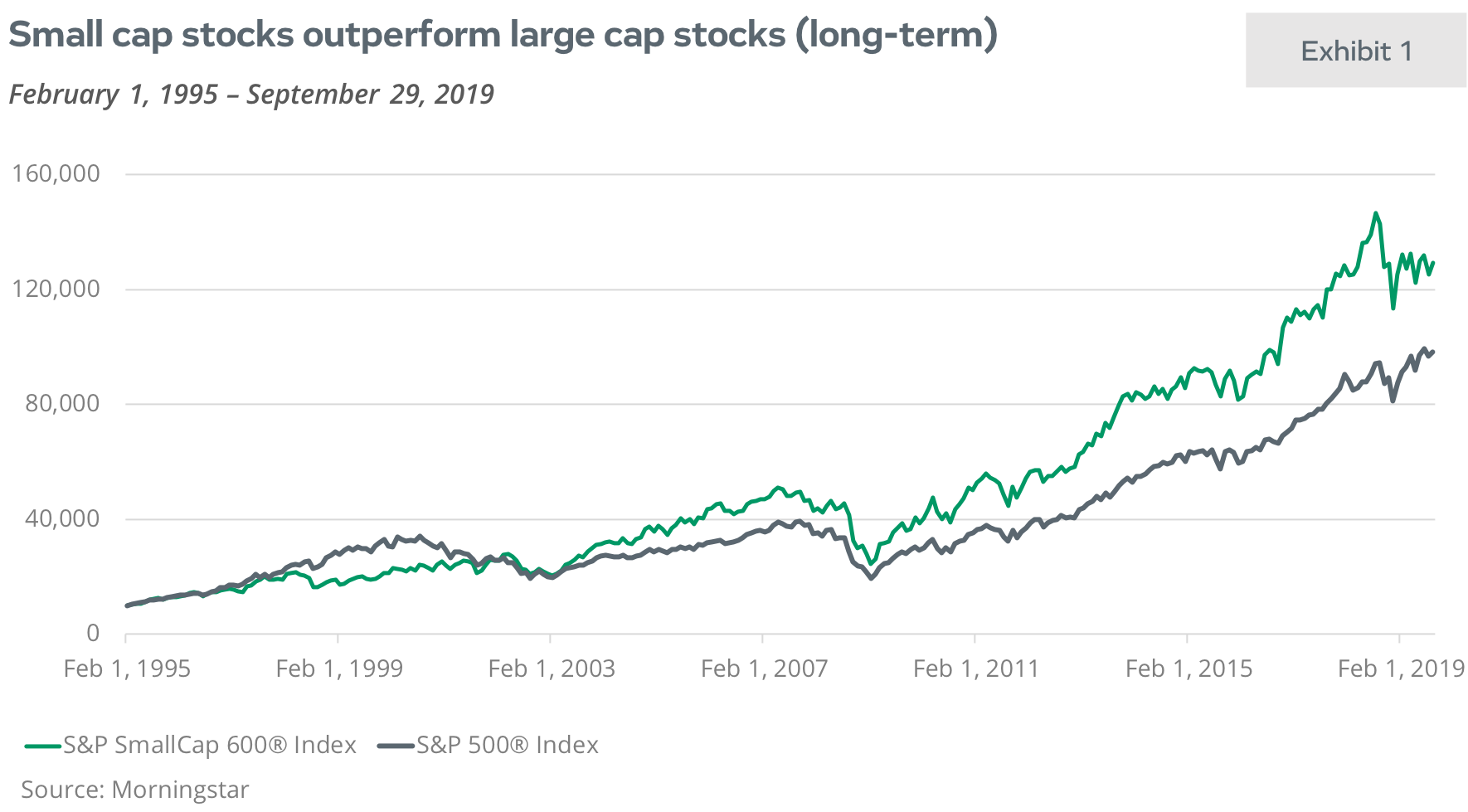 There is a cyclical nature to this relationship with extended periods of time in which small cap stocks have outperformed their large cap counterparts, as well as periods of sustained underperformance.
In March 1999, small cap stocks began a run of relative outperformance versus large cap stocks that persisted into 2011, as the chart below illustrates: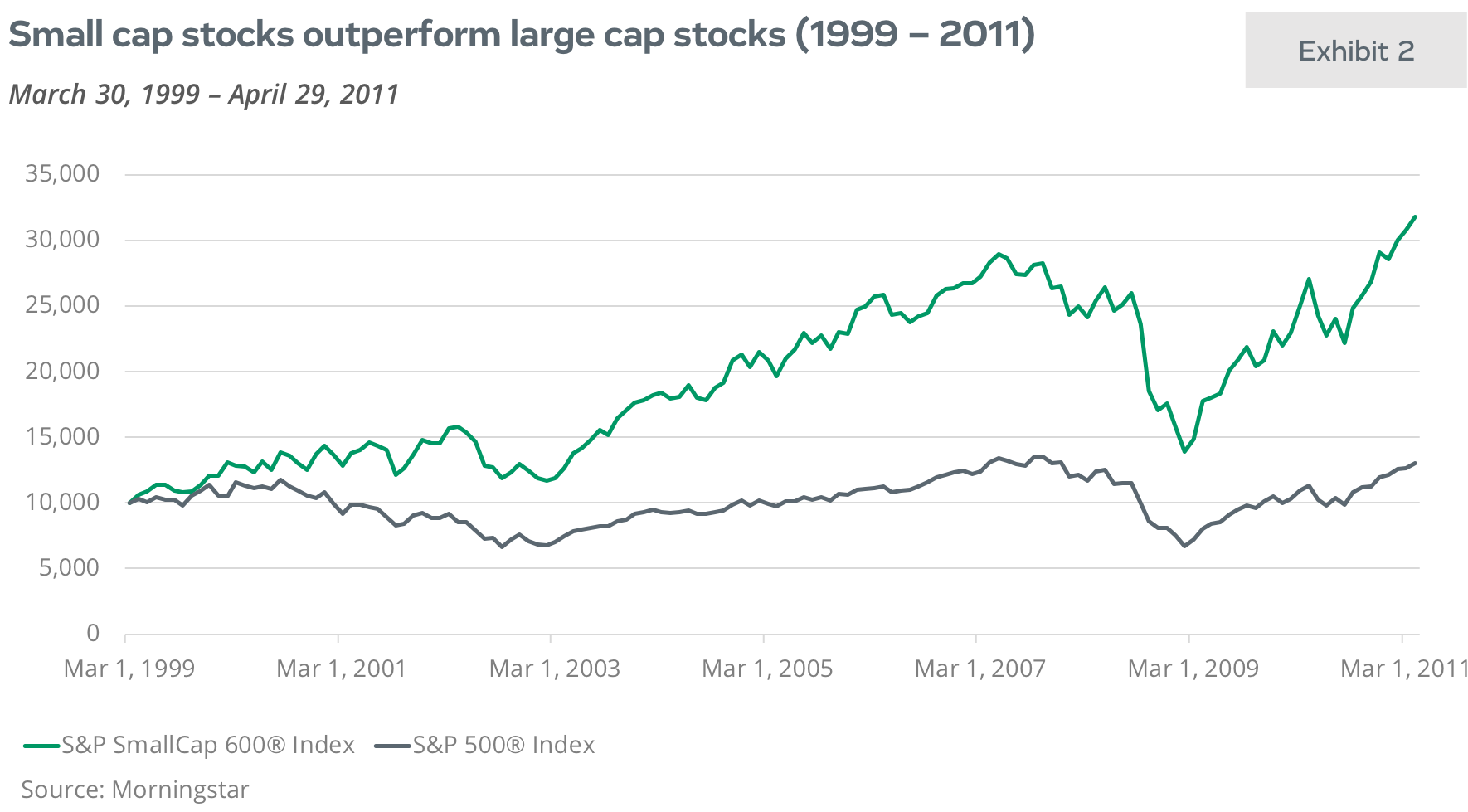 April of 2011 marked the peak in that performance advantage. Since then, large cap stocks have been rather systematically outperforming small cap indices, as the chart below shows: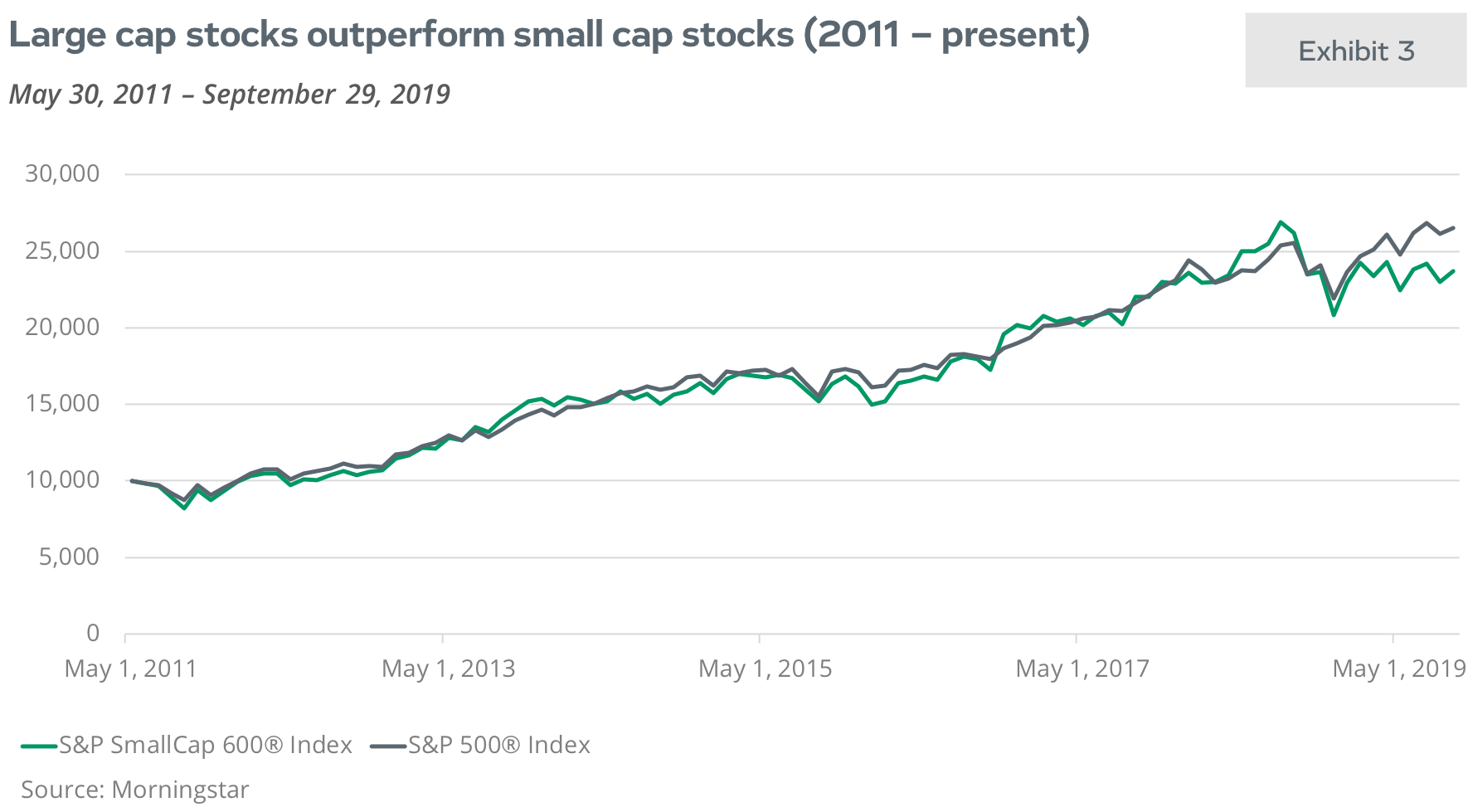 Reversing the trend
Profit margins for the large cap segment have been quite strong this cycle, particularly due to above average returns being achieved in the S&P 500® Information Technology sector.  On the other hand, margins in the small cap segment have been under significant pressure – failing to even match levels of profitability seen in the prior recovery.
Given the shift in relative profitability, it would be difficult to argue that current valuations for small cap companies at 18.4 times expected 2019 earnings (ex-negative earnings)i are compelling relative to large caps.
Additionally, small cap indices generally have a more pro-cyclical tilt because they are more leveraged to economic growth. With the heightened concerns about the sustainability of the economic recovery both domestically and abroad, as well as the uncertainties engendered by the ongoing trade disputes, investors' preferences have been focused on organic rather than cyclical growth.
These factors suggest that an acceleration in economic activity and higher interest rates would be catalysts for an improved outlook for small caps.
Nevertheless, that outlook may be dampened by the higher exposure of small caps to the financial sector than large caps. The declines in interest rates and the flattening of the yield curve over the last 12 months have pressured margins in the financial and banking groups.  Additionally, operating costs related to regulatory compliance, a factor that large banks can spread over a much larger customer base than a regional or community bank, are pressuring operating margins in that industry.
So, while small cap returns have historically been higher than that of large caps, that factor comes with the added cost of greater volatility in returns when compared to large caps. Small cap companies often do not have multiple business lines that may mitigate the risk inherent in a narrowly defined revenue stream.
Small caps also may have more leverage and higher financing costs as they may not have access to capital markets that larger companies enjoy.
Collectively, these factors result in a relatively higher level of business risk that is manifest in higher stock price volatility. This volatility can become exaggerated in a period of economic weakness or a recession, but that is compensated for by the high degree of positive operating leverage coming out of such events.
Finding value
However, those same characteristics may afford a portfolio manager the opportunity to earn excess returns above those of the small cap indices. Large companies are more closely-researched than small companies by stockbrokers and investment organizations and, theoretically, perhaps priced more efficiently.
Small cap companies often have fewer – if any – analysts doing deep investment research or due diligence on the operations of their companies, perhaps leading to less efficient price discovery and thus, more opportunity for high quality research to ferret out above-average investment opportunities.
As the chart below illustrates, over the past five years, the Thrivent Small Cap Stock Fund (TSCSX) has outperformed its benchmark index, which is the S&P SmallCap 600® Index, as well as a peer group of active and passive managers, as represented by the Lipper Small Cap Core Funds Median.ii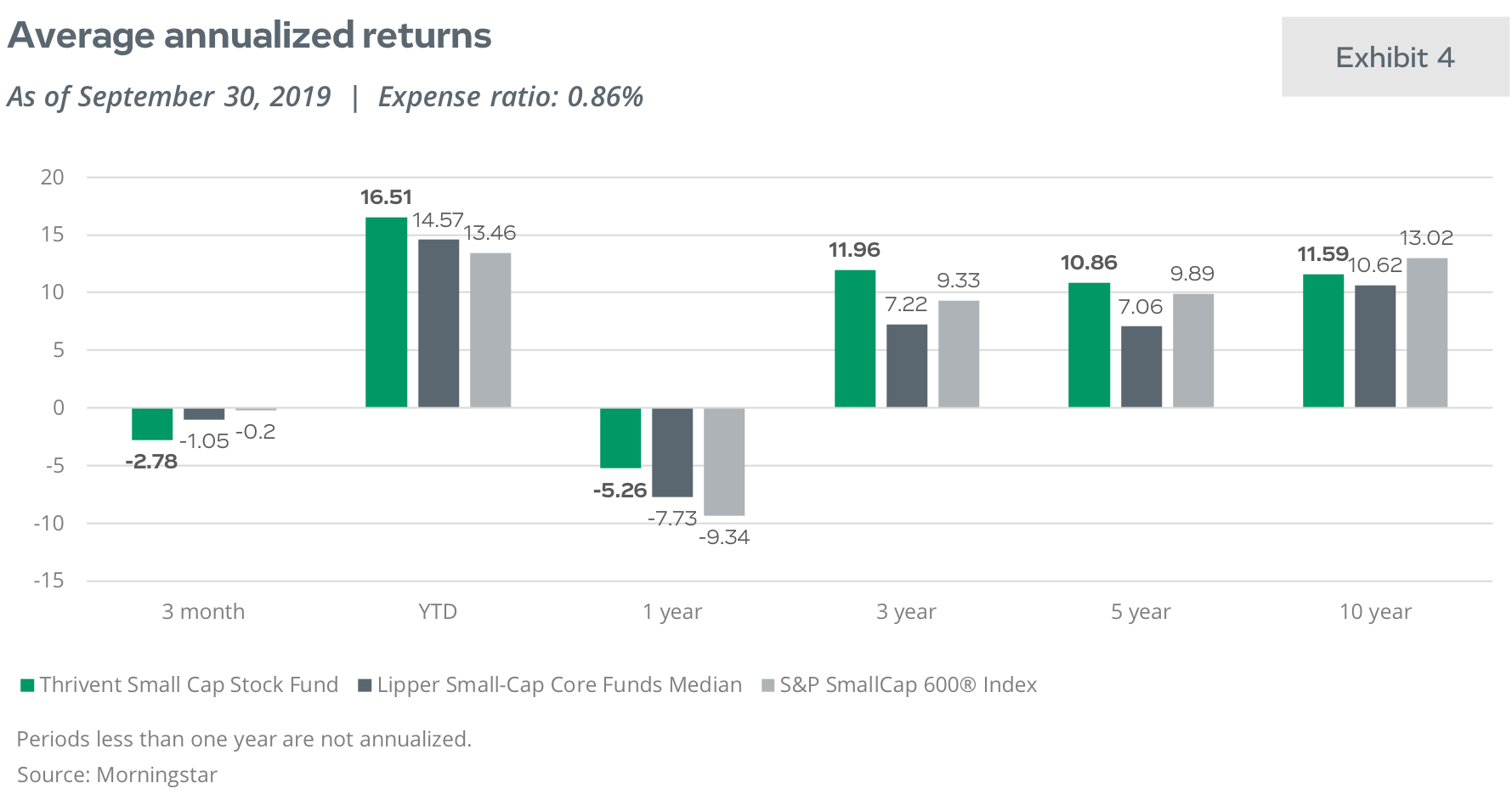 We believe that the secret to the Fund's success has been our management team's ability to identify companies that are mispriced relative to their underlying fundamentals.
We have accomplished this by utilizing a proprietary systematic investment process. The Fund is supported by a team of career fundamental investment analysts, all dedicated to identifying and investing in companies with good operating fundamentals, excellent management teams and positive revenue and earnings momentum.
Collaboratively, that strategy has helped the Fund outperform its benchmark and a peer group of active and passive managers over the past few years.

---
i Source:  FTSERussell Factsheet, June 30, 2019
iiThe Lipper median represents the median annualized total return for all reported funds in the classification.  Lipper medians do not include sales charges/fees. If included, returns would have been lower.
The Fund primarily invests in securities of small companies. Smaller, less seasoned companies often have greater price volatility, lower trading volume, and less liquidity than larger, more established companies. The value of the Fund is influenced by factors impacting the overall market, certain asset classes, certain investment styles, and specific issuers. The Fund may incur losses due to investments that do not perform as anticipated by the investment adviser.  These and other risks are described in the Fund's prospectus.
All data represents past performance. Past performance does not guarantee future results. The investment return and principal value of the investment will fluctuate so that an investor's shares, when redeemed, may be worth more or less than the original cost. Current performance may be lower or higher than the performance data quoted. Call 800-521-5308 or visit ThriventFunds.com for performance results current to the most recent month-end.
All information and representations herein are as of 10/22/2019, unless otherwise noted.
The views expressed are as of the date given, may change as market or other conditions change, and may differ from views expressed by other Thrivent Asset Management associates. Actual investment decisions made by Thrivent Asset Management will not necessarily reflect the views expressed. This information should not be considered investment advice or a recommendation of any particular security, strategy or product.  Investment decisions should always be made based on an investor's specific financial needs, objectives, goals, time horizon, and risk tolerance.