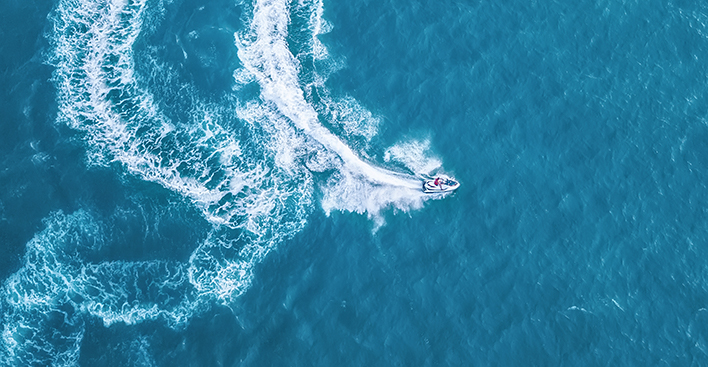 Most advisors and investors probably know that a mutual fund's "style" has nothing to do with being fashionable. But what they may not know is how important it is for the funds they pick to stick to their style over the long term to help them reach their goals.
Mutual funds that stay true to their investment strategies help form the foundation of asset allocation success. But not all funds stay true to their name, which can play havoc with the asset allocation strategy of an investor's portfolio.
In building a portfolio, each mutual fund you select represents a piece in the asset allocation puzzle that together should provide the best opportunity to meet your long-term investment objectives.
Collectively, these pieces determine how the portfolio may perform from both a return and a risk perspective over time. However, these funds could derail your asset allocation if the portfolio managers succumb to "style drift," which happens when a fund's underlying investments stray from their defined universe.
Style drift can occur in many ways. For example, a small-cap fund may "drift" into the mid-cap space when a manager hangs onto the winners in the portfolio for too long.
The style drift could also be more intentional, such as when a certain investment type is out of favor and the fund manager chases other investments to try to capture better returns or moves into a much higher level of cash in the portfolio. Or it could be a fixed-income manager who exposes the fund to more risk by moving further out on the duration spectrum or into lower quality credit to try to capture better returns.  
The industry also has many "go anywhere" mutual funds that aren't bound by a particular style but will fall into a certain Morningstar or Lipper category at any given time based on their underlying holdings.
However, you can't assume that just because a fund is categorized today as a large-cap value fund that it will provide that type of exposure going forward. Therefore, when you are considering funds for a portfolio, you can't necessarily rely solely on fund names, current holdings or stated investment styles.
Style drift leads to asset allocation shifts
No matter what the cause of a mutual fund's style drift, the fact is that it may expose your portfolio to unwanted and potentially significant consequences because the overall asset allocation you established is no longer in your control. As a result, your portfolio could have inadequate diversification or unintended overlap among its holdings, leaving you either under- or overexposed to certain asset classes.
For example, you may have allocated 20% of the portfolio to large-cap growth and 20% to large-cap value. However, let's say the large-cap growth manager believes the economy is slowing down, diminishing the prospects for growth stocks, and begins shifting the allocation to more value-oriented stocks.
As a result, the portfolio may suddenly have more like 25% in large-cap value and 15% in large-cap growth stocks – which is no longer in line with your long-term asset allocation objectives.
Likewise, it's difficult to keep a portfolio's risk levels within specific parameters if the investments in the underlying mutual funds are all over the map. If the mutual funds are investing more heavily in riskier securities, the overall portfolio's level of risk increases, while a shift toward less risky securities may result in a lower overall rate of return than expected.
What style drift looks like
The following charts show examples of several funds whose holdings have strayed away from their stated investment parameters or their current category.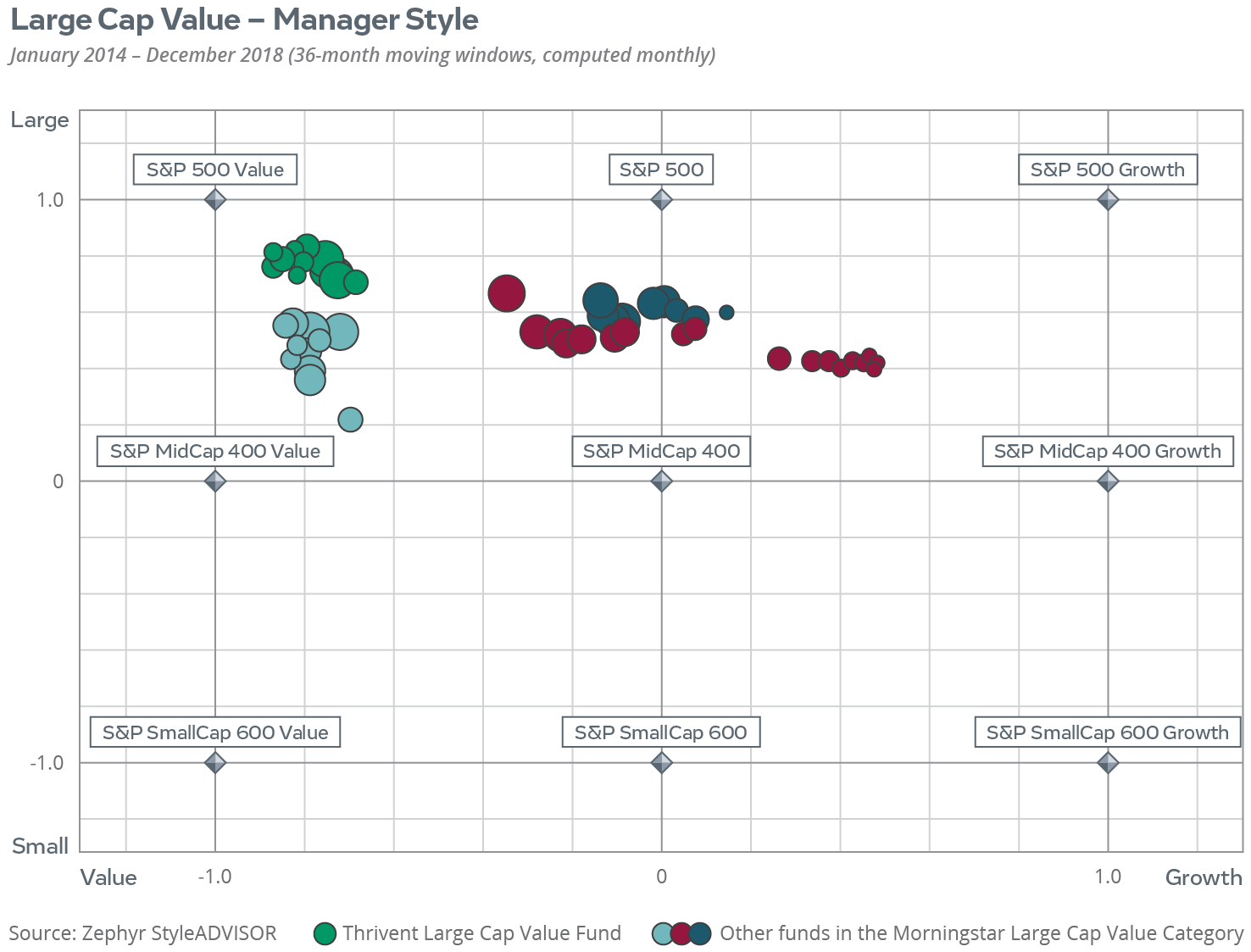 The above graph shows the asset allocation of four different large cap value funds, as measured by Morningstar on December 31, 2018. The green circles, which are closest to the S&P 500 Value Index box, represent Thrivent Large Cap Value Fund, and show very little style drift. The fund represented by light blue circles has drifted lower in market cap, the fund represented by the dark blue aligns more closely with the S&P 500 Index, which represents large cap core stocks, while the fund represented by maroon had strayed all the way over to the growth side before moving towards the value side.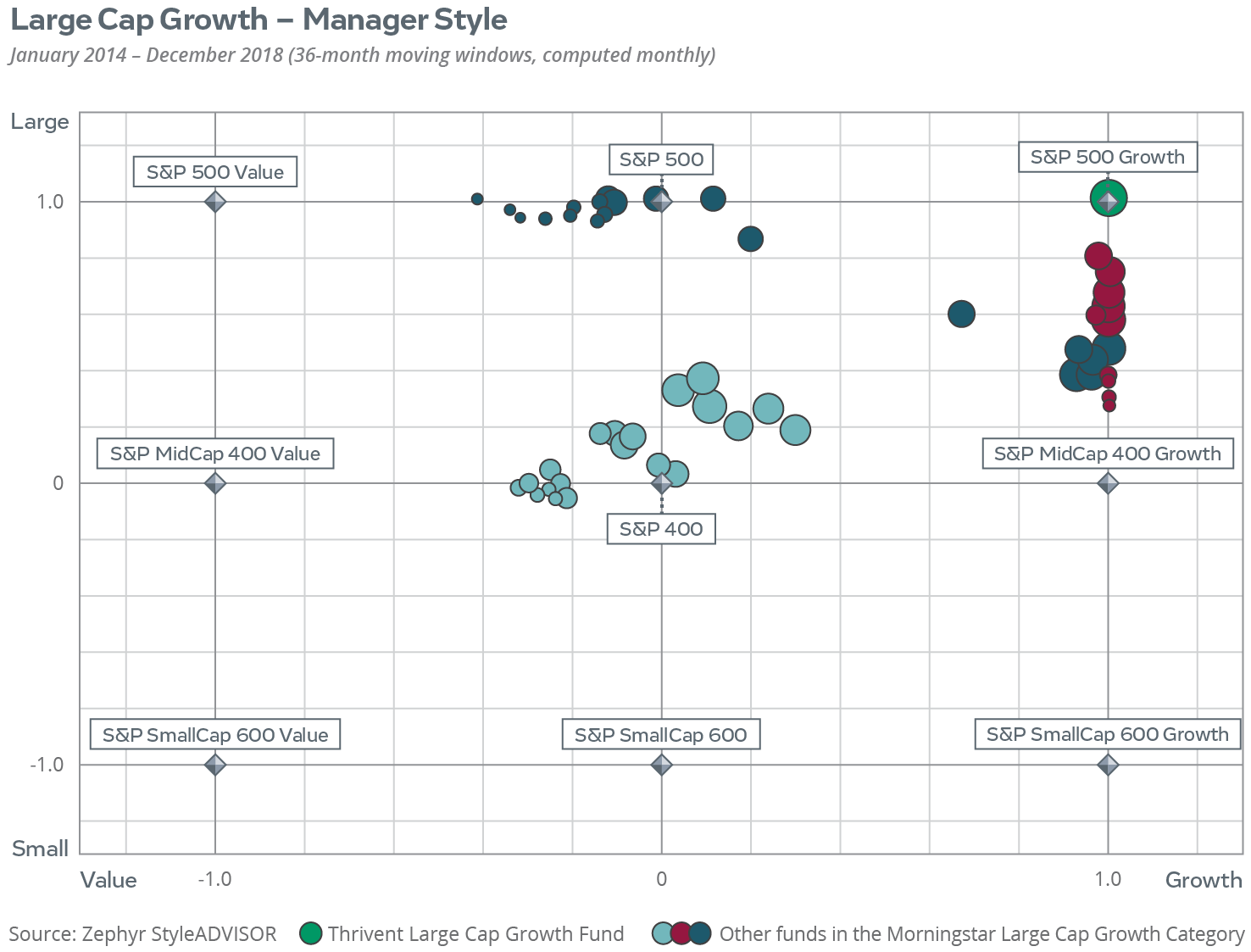 The above graph shows the asset allocation of four different large cap growth funds, as measured by Morningstar as of December 31, 2018. The green circles represent Thrivent Large Cap Growth Fund and show no style drift at all, as the fund has measured as pure large cap growth over the time periods shown. The fund represented by the light blue circles has drifted both lower in market cap and more to core, the fund represented by the dark blue has varied greatly over time, measuring on the large value side, before moving to growth, and the fund represented by maroon has varied in market cap, sometimes drifting down closer to mid-cap growth than to large-cap growth. 
While funds that drift may perform well in a vacuum, they may not be fulfilling their intended purpose as one component of a diversified portfolio – either in terms of their holdings or their risk levels.
It may be difficult to stay on top of a mutual fund's true exposures because most fund families publicly report their holdings with a 30- to 90-day lag. But once you become aware of a fund that seems to drift regularly in and out of its style lane, it's probably time to look for a different fund to fulfill that specific niche within your portfolio's asset allocation.
S&P 500® Value Index measures the performance of the value stocks in the S&P 500 Index.
S&P 500® Index is a market-cap weighted index that represents the average performance of a group of 500 large-capitalization stocks.
S&P 500® Growth Index measures the performance of the growth stocks in the S&P 500 Index.