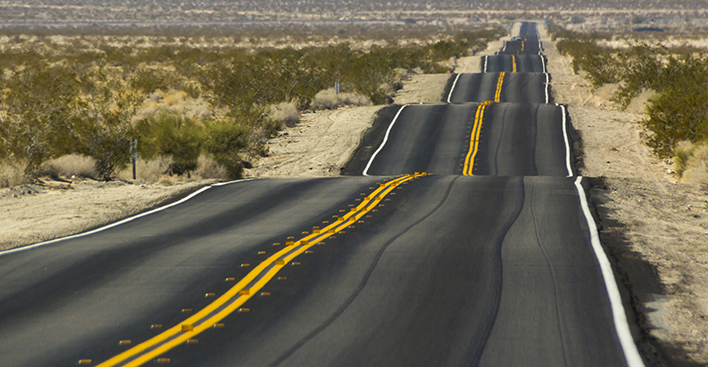 Economic growth has been stellar, corporate profits are growing, gross domestic product (GDP) growth was a robust 3.5% in the 3rd quarter, and the current 3.7% unemployment rate is the lowest since 1969.
So why has the stock market been in sharp decline in recent weeks?
Stock performance is traditionally influenced more by expected future economic conditions than by past or current trends – which have already been priced into the market. Investors look beyond the current economy to see what may unfold in the months ahead that could affect economic growth and stock values.
This year, stock market gains have been driven largely by strong corporate earnings, with S&P 500 earnings growth of about 20% in 2018. But much of those gains were the result of corporate tax cuts and improved margins. (The S&P 500 Index is a market-cap-weighted index that represents the average performance of a group of 500 large-capitalization stocks.)
With no additional tax cuts in 2019, corporate profit growth will now depend on continued margin improvement and organic revenue growth.
Under continued favorable economic conditions, we expect solid earnings gains of 5 to 10% in 2019. The industry consensus estimate for 2019 S&P 500 earnings growth is 10%.
What are the key factors affecting economic growth in the coming months?
Fed Tightening
The Federal Reserve has pursued a tightening policy by raising interest rates and shrinking their large bond portfolio. This should begin to temper economic growth and the potential for higher inflation. However, this policy tightening has already contributed to tempering returns in the stock market and has led to a meaningfully higher U.S. dollar exchange rate. Higher bond yields provide a more competitive return alternative to higher risk equities. 
The intent of the Fed policy is to keep the economy growing at a reasonable rate while avoiding a spike in inflation. We expect the Fed to continue to raise rates in the coming year, probably to a range of 3.0% to 3.25%. The goal is to reach a "neutral rate," where the Fed is neither stimulating nor slowing the economy. The following chart shows a trend that would ultimately lead to a neutral rate: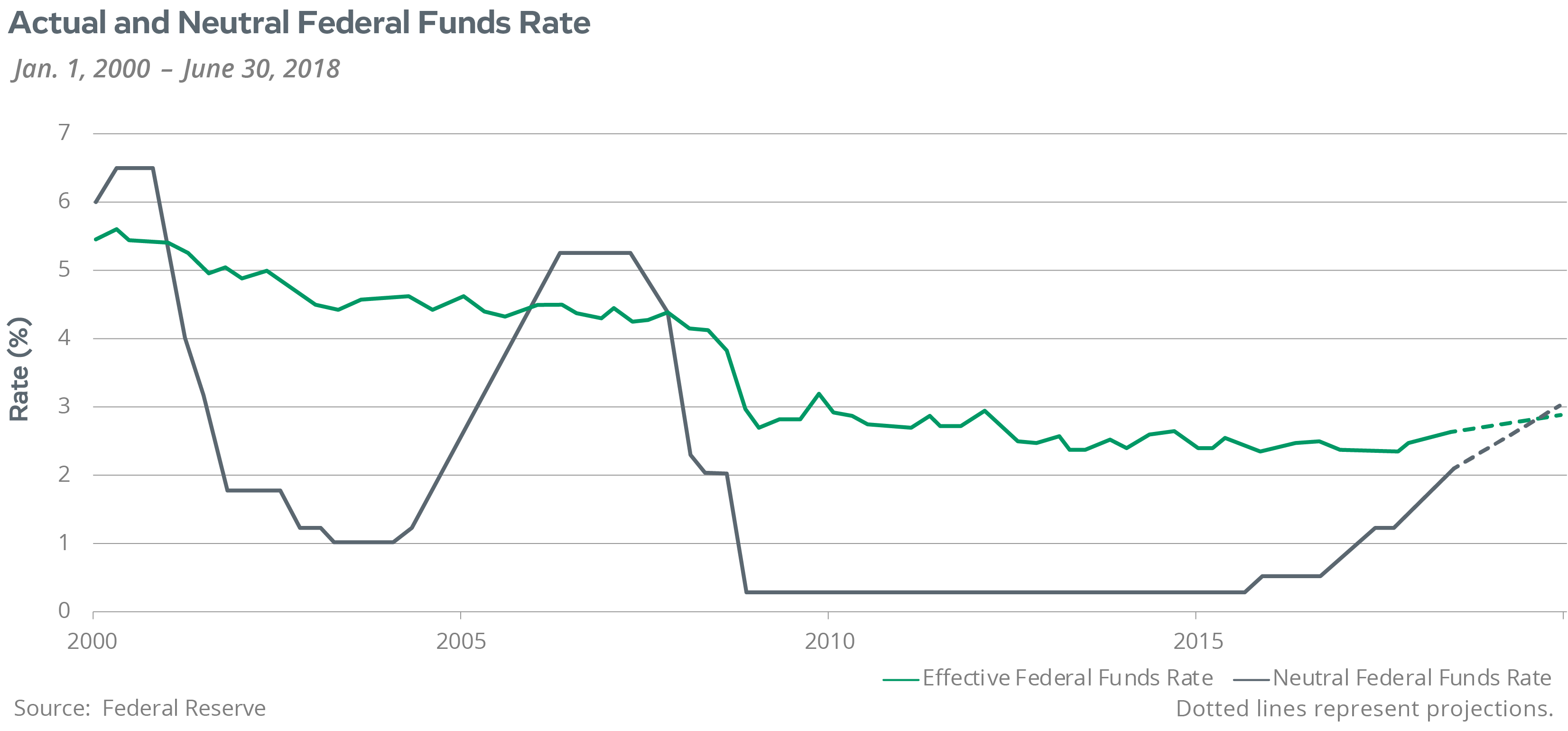 Other Factors
In addition to rising interest rates and lower corporate earnings growth, there are several other factors affecting the stock market:
Economic cooling. If economic growth begins to erode, that could affect corporate earnings and stock valuations. So far, rising employment and healthy consumer spending have kept the economy on a strong track, but if consumer spending begins to wane, that could have a negative impact on economic growth.
Tariffs and trade. Tariff issues have been a drag on some sectors, although so far trade issues have not had a significant effect on the broad U.S. market.
International weakness. While tariffs have had a negligible impact on U.S. growth, they have had an impact on an already-weak international market. Economic issues abroad could ultimately have a negative effect on corporate growth in the U.S.
Mid-term elections. If either house of Congress moves to a Democratic majority, that could affect tax policy, although the chances of a major overhaul are very slim.
While the economy seems strong and corporate earnings growth appears to be solid for the coming months, the major factors affecting the stock market now are concern over how long companies can sustain peak earnings – and how long economic activity can remain at a peak level.
A Look Ahead
Higher risk assets, particularly equities, will remain more volatile as the Fed pursues its incremental tightening policy.  This should not be surprising – it's what usually happens when the Fed raises interest rates.  However, market valuation is now fairly reasonable, with the forward P/E ratio for the S&P 500 at about 15.5. This is slightly below longer term valuation levels. 
Corporate earnings remain very good, although they are now decelerating as the effects of tax policy diminish over time.  Rising interest rates will continue to temper the equity market.  However, with short term interest rates now approaching what the Fed may consider the "neutral rate," we believe the Fed may be closer to stopping, or at least pausing, its tightening monetary policy.  
We continue to expect modestly positive equity market returns over the next six to 12 months. Fixed income returns will remain relatively low over this same timeframe.  However, with bond yields meaningfully higher (particularly short-term yields) relative to rates in recent years, and with inflation still hovering around 2% with little sign of accelerating, bonds now do provide some modicum of return and a better diversification component for portfolios. 
For more, see: Stocks Slump Despite Solid Economic Results: October Market Recap
Media contact: Samantha Mehrotra, 612-844-4197, samantha.mehrotra@thrivent.com
All information and representations herein are as of 11/01/2018, unless otherwise noted.
The views expressed are as of the date given, may change as market or other conditions change, and may differ from views expressed by other Thrivent Asset Management associates. Actual investment decisions made by Thrivent Asset Management will not necessarily reflect the views expressed. This information should not be considered investment advice or a recommendation of any particular security, strategy or product.  Investment decisions should always be made based on an investor's specific financial needs, objectives, goals, time horizon, and risk tolerance.
Past performance is not necessarily indicative of future results.
---