While many people wait until the deadline to contribute to an IRA – which is typically on or around the April 15 tax filing deadline after the taxable year – you could accelerate your savings process by contributing a year earlier during the current tax year instead of at the deadline in the following year.
For instance, if you start contributing $6,000 to your plan a year earlier, that essentially puts an extra $6,000 into your IRA, and starts the investment process, well…a year earlier! This could add tens of thousands of dollars to your retirement account over your lifetime. (See: IRA Contribution Rules and Limits)
Below are two examples of the additional amount you could earn over the long term by not waiting to invest, based on a 5% annual return and a 10% annual return. 
Keep in mind that investing involves risk, including the potential for loss of principal. These examples are hypothetical for illustrative purposes only and are not intended to represent the performance of any particular investment product, nor do they take into consideration any product expenses or fees. The results would be reduced if costs were included.
Whether you invest the maximum amount allowed ($6,000 for those under age 50 in 2019 and 2020) or a lesser amount, starting a year earlier may have a significant impact on your total savings over the long term. In the following illustrations, we show the impact that earlier contributions would have for an investor who contributes $6,000 a year.
At an average annual return of 5%, after 10 years of $6,000 annual contributions, your portfolio would have grown to $79,760 – that's $9,882 more than your account would be worth if you had started a year later And as the table below shows, after 40 years, the returns from the early investment would have added $44,150 to the total IRA savings: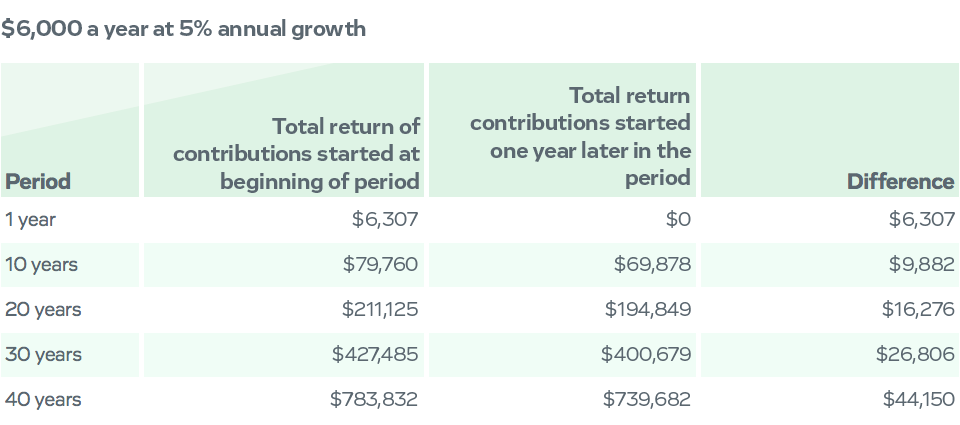 The difference would be even more significant for someone earning 10% per year. In fact, after 40 years, returns from the early investment would have added more than $300,000 to the total IRA balance: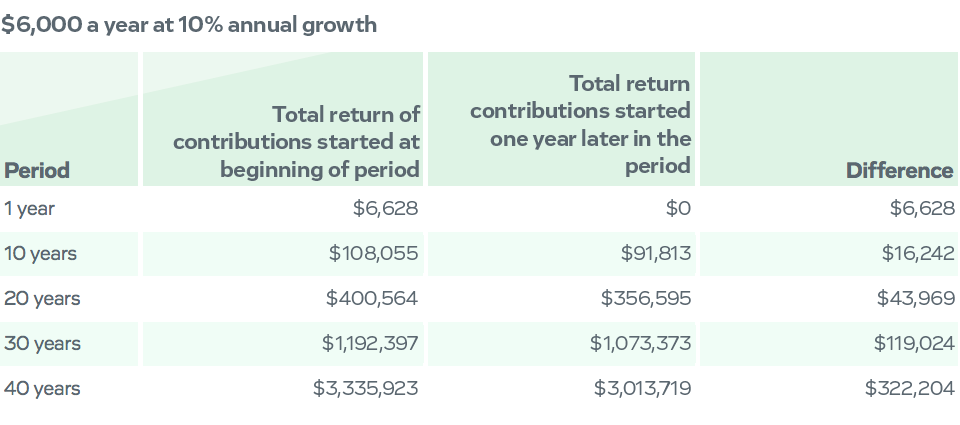 Opening an IRA can help you get started on a lifetime retirement savings plan for the future. To sweeten the pot, you may be able to realize significantly greater savings simply by contributing to your plan early in the current tax year instead of a year later at the contribution deadline.  
Thrivent Mutual Funds and their representatives cannot provide legal or tax advice.